Lakeland College's new Animal Clinic has set up students in the best position to succeed in their respective fields. The $8.2 million dollar facility has officially opened its doors offering more space and advanced technology for students.
The clinic on the Vermilion campus officially opened its doors on September 7th. The 14,531 sq. ft. facility has 111 animal health technology and 26 veterinary medical assistant students who've already begun learning in the space. Second-year AHT student Haylie-ann Lafrance believes the 30 seat increase of the program is a big positive for the clinic.
"Before we were trying to accommodate everyone in such a small space and now we can accommodate an even larger volume of students more comfortably."
The clinic boasts separate animal wards, a modern surgical suite, a dental lab, separate pharamacy and more. Outside the classroom, AHT and VMA students will gain hands-on experience through the new student-led clinic model. Lafrance says the new clinic will help her take an initiative and further her leadership skills.
"It's much more organized and it's student-led. We get to run this clinic. When we get out into the world, when we get out into practice, we're so much more ready because we have experienced it first hand."
Approximately $1.3 million was spent on newer technology for the clinic. The students will have realistic models of animals to work on, which will give them a more real-life approach to learning. Lakeland will be the first organization in the world to use a specific catlike model called the SynDaver's CopyCat synthetic feline cadaver for training. The new clinic will include the local humane society, animal rescue groups, and college staff.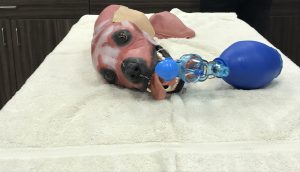 To help with funding, Lakeland received close to $2.5 million from the Government of Canada's post-secondary investment fund, a $1.76 million grant from Alberta and $1.12 million from previous grants from Alberta Advanced Education. The college is also raising funds through their campaign. Vermilion-Lloydminster MLA Dr. Richard Starke believes Lakeland's animal health program could compete with any similar program across Canada.
"The technologists that graduate from this school, we've hired a lot of them in our practice. We know that they're well trained, very professional, a good working attitude and that they know how to work as a team."