Emotions filled the room as stories of overcoming adversity and love were shared at Lakeland College's Coming Out Stories. 
The event saw members of the LGBTQ+ community reveal their journey, from "coming out" to where they are now and all the challenges faced in between. November 7th marked the second time Lakeland has thrown the event and the first time at the Vermillion Campus.
Member of the LGBTQ+ Student Committee William Yap created and oversaw both coming out nights. The perception of smaller towns might be that they are "behind the times" regarding sexual orientation, but  Yap says he wanted to push the boundaries and prove that smaller communities can be just accepting as larger cities.
"It was because of the reputation, so to speak, that the small towns get where people just assume that it is not as accepting or as up with the times."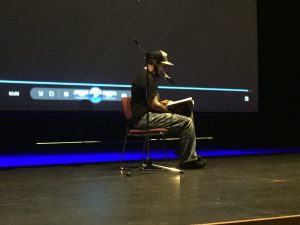 Stirling Moess was one of four speakers on Wednesday, his second time after speaking at the Lloydminster campus last year. Moess is a transgender man who spoke on self-acceptance and finding your identity. He says he wants to bring forth his story sharing the difficulties trans people go through and to be an inspiration to those finding themselves.
"To show younger transgender people that there is hope, that there is a future for you, that you don't have to live your life afraid and just to raise that general awareness."
One of the other speakers was Patty Brown, who spoke on coming from a lack of
understanding to accepting her daughter's pansexual identity and expression.
"It's a healing process for me to fix our relationship because it hasn't been without struggle. So, this has definitely helped me understand where she is coming from and to accept, and to love."
Brown's daughter, Ayla Chapman, started the "Hero's Club" three years ago as a student. Hero's Club is an LGBT-straight alliance at the Lloydminster Comprehensive High School which exists to this day.
The LGBTQ+ Committee was more involved in last Years Coming Out Stories compared to this year, Yap said he was given full creative control to pull off the event he envisioned.
"I have been so blown away with the turnout. In Lloydminster campus, I was just expecting just a bunch of avant-garde queens and LGBTQ+ people but we had well over 60 people in attendance in the Lloydminster campus and now with Vermillion, I think we may have almost breached 90 maybe even close to 100 people."
Yap says that the biggest thing he wants people to leave with is an actual understanding of a close-knit community.
"We shouldn't contradict ourselves. If we are close-knit, that means we are going to accept and love each other no matter our orientations or minority that we identify as."