Lloydminster residents bow their heads and listen to 100 bells marking a 100 years since the end of the Great War.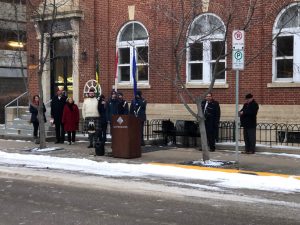 Many people gathered around the clock tower on Remembrance Day for the "Bells of Peace" initiative, honouring the families affected by WWI.
Families bundled up to get ready for the minus 20 weather in order to be a part of this once and a lifetime experience, Mayor Gerald Aalbers says it was amazing to see.
"I think it was a great event tonight and I thank the so many residents that came out, young and old. We had veterans, we had members of the Canadian Forces, we had the cadets, we had people who make a living and live in this community out and it was terrific to see."
Bells rang across the country as other communities participated in the event. From the Clock Tower, you could hear the ringing of churches amongst Lloydminster that joined in as well.
Legion Branch no.39 and The City of Lloydminster decided to bring the initiative to the city a couple weeks ago. Aalbers says he felt very
emotional, remembering his grandfather who was in the first world war along with seeing all the residents pay their respects.
" It touches me a great deal and I hope it touches everybody that was heard and I hope our
veterans felt appreciation and you know we have lived through something that happened a 100 years ago and we were able to repeat it in a peaceful setting which was terrific because the end of the war was peace."
The annual Remembrance Day Ceremony started off the day at Lloydminster Comp and ended with the 100 bells at sunset.