Lakeland student William Yap shared his journey from figuring out his identity to self-love during National Aboriginal Addictions Awareness Week to kids at Eagleview Highschool.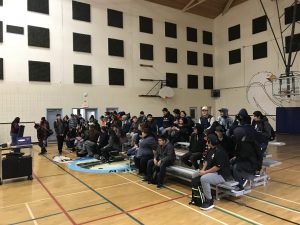 Yap is the President of the LGBTQ+ support group at Lakeland College and is the first openly gay man to join the school's Board of Governors. He was approached by Carmen Carter from the Ekweskeet Healing Lodge to speak to the students in order to start the conversation for gender identity in Onion Lake.
Groups of kids from grade 8-12 crowded around Yap Thursday with attentive stares as he told his story. During his presentation, he described turning to alcohol and sex to fill the gap after his families refusal to accept him once he came out.
"There's a possibility, especially if your story is as similar when it comes to hardships, its almost as a cause and effect thing. Because of how poorly handled the story of the coming out is, it could potentially lead to addictions because that's one way we as a society know how to cope."
Eagleview brings in presenters every year during NAAA week to share their stories of addiction. Vice Principal Ken Morrell says he hopes the examples presented will give students the outline of a possible path that could succeed for them.
"If we could get one or two kids this time that's awesome. It's more the drip, drip, drip of information that will eventually seep in and hopefully take hold. And you're just planting the seed and hopefully, it will grow within the student and they're able to make possible changes."
Will hopes that if students have someone who approaches them about being a part of the LGBTQ rainbow, they should listen and support them "because they have the opportunity to save someone's life".
Yap says when he began to substitute his addictions with self-love and surrounding himself with people that cared, he realized he was a "winner".
"My point is more of preventing addictions in the only way I know how. In my own mind, [it] is to be open and accepting to any walk of life."