A report from the Canadian Federation of Independent Businesses says that Lloydminster needs to reduce it's spending. According to its report, Lloydminster is one of many Alberta municipalities that are overspending compared to their population growth.
Out of 182 ranked municipalities in the province with 1 being the best, Lloydminster sits at 143 for excessive spending. The CFIB's concern is that high operational spending will burden independent businesses with more taxes. Deputy Mayor Michael Diachuk says that the report might not reflect the more recent circumstances for Lloydminster, as it only shows data from 2006 to 2016.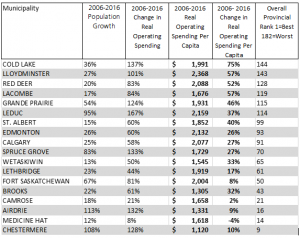 "I'd like to see the data on a two-year basis as well, because a good chunk of that is where we had really high growth in our city. So if you look at the high growth period, there's a lot of challenges even around manpower," says Diachuk. The report recommends municipalities limit spending to inflation and population growth, but Diachuk says that Lloydminster did exactly that.
"There was population growth. We spent more beause we had to invest more money to get infrastructure and get people out the work to do the work."
The document also recommends that municipalities review their core services for local government to find where to reduce spending. It suggests contracting services to the private sector where possible. However, the city already contracts services to the private sector, such as snow removal. Diachuk adds that while the data looks interesting it's not always as easy as making Lloydminster spend less.
"I think there's an assumption here that there's somehow a magic point here for everybody that's the right balance, and I don't think you can take one balance and set it for all the cities," says Diachuk. He mentions the report's recommendations are good indicators, but they don't always reflect how a city operates.
The sustainable wage policy is something he admits is a bit more complicated; the city looks reasonable when public sector salaries are high, but appears to be overspending when the economy is down. Diachuk says that the city's salaries factor in offsets for inflation and the cost of living, and still has trouble finding hires.
"If you were to spend money, where would you want to spend your money? In my mind, it would be your most important resource which is human capital. We have two or three positions, we're advertising and we have headhunters, and we still have difficulty bringing people in. Why? Because we're Lloydminster, and our salaries aren't on the bleeding edge."
The city has also made efforts to reduce leadership roles. The number of managers, supervisors and superintendents has been reduced to balance the leadership to worker rate. Diachuk says that most business advice suggests one boss per ten people, but the current rate in the city is close to one boss per seven people.
"We're moving in the right direction and reducing the number of managers, but also we're making sure that our employees have the skills to do the work. I think we were a little top heavy, so that's one of the changes we've made and I think that's part of the new leadership team that's been put in place."
Diachuk points to other things the report recommends that the city has already done. The advice to make contingency funds for disasters is already being followed by the city's financial reserves. The city's spending may also appear inflated by investing in capital projects, such as repairs to the clocktower downtown and updates to the cultural and science centre.