Lloydminster residents rushed to the aid of those in need by helping stock the Lloydminster Friendship Centre up for those surviving the cold snap.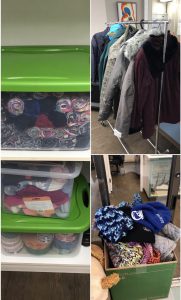 Youth Program Coordinator Carey Wahobin says it's awesome to see how quickly donations came in after they asked for help.
"It's a good feeling. So, that people come in here, in and out, they're cold, some of them don't even have winter jackets, toques and gloves and now that [donations] are here now they're happy. When they're happy, we're happy."
After the quick response by the community, they now have a couple boxes full of warm clothing such as toques.
"It's good that the community are thinking about the homeless people and the poor people that can't afford to buy winter clothing for themselves."