The City of Lloydminster asks residents for cooperation ahead of residential snow clearing. On January 28th, snow removal crews will be out tackling residential roads.
In a statement, the city says Lloydminster has seen 50 cm of snow since November. With priority one and two routes, the focal point since the snowfall, priority three residential routes have become uneven and packed with snow.
Director of Transportation Services Dave Henning says there are a couple reasons why it's important for residents to move their vehicles during removal.
"It's kind of a safety issue. If vehicles are still left on the street all the time then it congests are work area for our equipment and a lot of times we will have eight or ten pieces of equipment out there. It's nice to have all [Vehicles] moved so the guys can go in and do their job and then leave"
He adds if vehicles aren't moved the workers have to keep coming back until the snow is clear. Signs will be present
in areas 48 hours before snow removal begins. The City asks that residents move garbage carts and other obstructions along with cars ahead of removal crews showing up.
The City says that curbside collection shouldn't be affected by snow removal. They ask that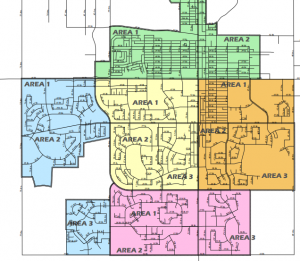 residents don't put garbage out until after 7 pm. Henning says the aim is to have clearing done within four weeks if everything runs smoothly.
"If we get into a situation where there is a major snowfall, then some of our contractors have to pull back for a couple days and look after the contracts they have set up will other groups."
Removal crews will begin on yellow, blue and green zones on January 28th. Removal in the pink and orange zones will follow unless a snowfall occurs.