A letter to suppliers from Canadian Natural Resources Ltd. (CNRL) suggests as many as 1,000 jobs may be lost in the area of Lloydminster, Bonnyville, Elk Point and Lakeland County in February. The letter sent on January 22 says that, because of Alberta's oil production curtailment formula, the company may close its ECHO pipeline and the production associated with it.
CNRL initially supported the government's actions to cap oil production by 325,000 barrels a day. This was when the formula determined the baseline by averaging the six highest months of production between November 2017 and October 2018. The formula's new methodology determines the baseline by measuring the highest month of production between November 2017 and October 2018.
The letter, which can be read below, says the company holds 35% of the production cap burden while their product accounts for only 23.9% of all production. CNRL says they take "46% more curtailment than it's share of production". The letter adds that the new formula is flawed and clearly discriminatory against CNRL.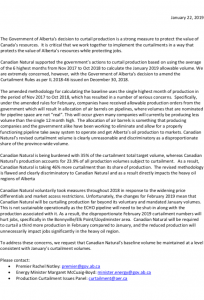 "Unfortunately, the changes for February 2019 mean that Canadian Natural will be curtailing go far beyond its voluntary and mandated January volumes. This is not sustainable operationally as the ECHO pipeline will need to be shut-in along with the production associated with it. As a result, the disproportionate February 2019 curtailment numbers will affect jobs, specifically in the Bonnyville/Elk Point/Lloydminster area."
The letter says that CNRL will need to cap a third more production next month and that it will directly impact jobs in the region. They request that CNRL's baseline volume is consistent with January levels. The ECHO pipeline sends heavy crude from the Lakeland region to a blending facility near Hardisty. The company has not immediately returned a request for comment.