The LGBTQ+ Society of Lloydminster is criticizing a local business for a transphobic Facebook post from January 28. A store shared an article to its Facebook page on Monday claiming that human intelligence is declining. The page commented on the article, saying it might apply to someone who doesn't know their gender.
The post has since been taken down, however, a screenshot was shared with the LGBTQ+ Society of Lloydminster. The group was created in 2015 and serves as a local community for gender and sexual minorities. Many members of the group were upset by the post and thought it targeted transgender people. Adrianna Girard, a member of the group for over a year, feels the post was attacking gender diverse people like herself.
"I feel like they were definitely attempting to attack people like myself and some of my friend's identity. But what they're really doing is harming a really accepting group of people," says Girard.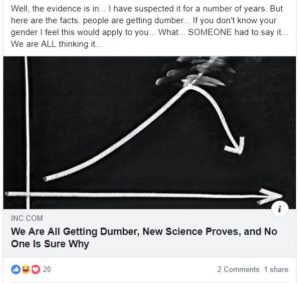 After coming out a bit over a year ago, Girard says she's much happier living her life as a transgender person. She met the LGBTQ+ Society at a backyard barbeque and has found it has helped her through her own discovery. While she finds her community accepts her identity, she also feels that comments like these contribute to transgender discrimination.
"I think that's what these kinds of posts do, is they add fuel to the fire. They give more people more things to complain about. But, we're not infringing on anyone's rights. We just want to live our lives. We don't want to be considered some kind of liberal ideology or anything. We just want to be us, and be free."
Founder of the local LGBTQ+ Society, Tiffani Wiesner, agrees that the post is harmful to their small community. She calls it this hate speech and criticizes linking gender diversity to an unrelated study.
"Nowhere in that article that they shared is there even mention of gender identity or sexuality. The two issues are so far from being remotely related. The fact that they tried to lump everyone into having the same prejudiced opinion, by saying 'we're all thinking it' is just ridiculous," says Wiesner. She adds that while many in Lloydminster seem to support their community, comments like these hurt progress.
"It's very disheartening that in this day and age, with the groundbreaking progress that LGBTQ people have made, that people feel the need go out of their way to make us feel like we don't belong, or that there's something wrong with us because we're different."
Wiesner believes that words like these can have a lasting negative impact. The shop did not return a request for comment.