Lloydminster winter maintenance crews are ceasing residential snow clearing today to focus on priority one routes after the recent snowfall. Priority 1 routes include Highway 16 & 17.
Director of Transportation Dave Henning says residential routes will be put on hold Friday at noon.
"We have contractors that have other contractors to look after and our own crews have to go back into plowing our priority one routes and do some extra sanding."
Henning adds crews will work all weekend if required. According to Environment Canada, the city is expected to accumulate 15-30 cm of snow by Saturday afternoon.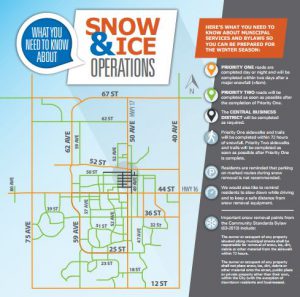 "Our intention is to have at least one crew working and as soon as possible," Henning says their goal is to continue clearing residential routes on Monday depending on snowfall.