After twenty years, the Armstrong family continues to bring people together for the love of curling. The Viv Backer Junior Curling Bonspiel takes place Feb.1-3 bringing 120 curlers from Alberta & Saskatchewan ages 7-20.
Committee member Derek Armstrong along with his brothers Ryan and Tyson have been running the Bonspiel for the last seven years. Derek says his parents and relatives took over the tournament in 1997 running it until the brothers began to run it.
"It became a family thing because we would always help when we were younger, pack a registration bag, the same thing as our little kids were helping us the other night pack up the bags and get things ready," while gathering people to bond over the sport they love, the Armstrongs were doing the exact same thing within their family.
Derek says he started competing in the family-run tournament when he was young until he was 20. He says he constantly sees kids progressing each year and continuing into their later years. Peers that played with Derek and his brothers when he was younger come back and bring their children into the fold.
"There is definitely some pride in the aspect of keeping it going, but I know we all look to having our own children and play in it. It's the joy of the sport and continuing it as an option for the kids in the community as well. "
Lloydminster has many clubs and bonspiels catered towards kids and adults, Derek says the Viv Backer Bonspiel was created to fill a gap between ages. He says it is important to show kids the comradery and fun the sport has to offer at a young age.
"Curling really is a life long sport. Compared to some other athletics where as you age it becomes a little bit more difficult to do, curling is something that most people can continue as they get older."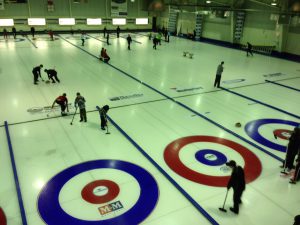 Derek adds that is is all about teaching kids something the new and introducing them to a sport that is community driven. With the bonspiel bringing in a lot of families and coaches out of town, Derek says the community will benefit.
"We bring in people to hotels and restaurants and what not, which is why we have worked and partnered with a lot various groups and business and individuals who have sponsored us over the years."
The tournament will have two divisions, 14 and under, and 20 and under. The three-day event kicks off tonight at 5:45 at the Lloydminster Golf and Curling Centre. 30 teams will be participating in draws all weekend with the last draw starting at 2 pm on Sunday. The first two days will be a round robin, Sunday the teams will be seeded competing to come out on top.