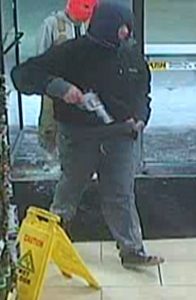 RCMP is asking for any information in regards two armed robberies that occurred at two Battleford business.
On Tuesday shortly after midnight, police got reports of three men who had robbed a store on the 1700 block of 100th Street. The men left the store with a small number of items. One of the men was seen on camera with a pistol.
Police say another robbery was reported at 9 pm on Tuesday. Two individuals stole items from a business on the 300 block of 22nd Street West in Battleford. One of the men had a knife while the other had a gun. No one was injured in the robberies.
RCMP says the nature of the crimes show that they may be linked.
Police ask anyone with information on the theft to contact North Battleford RCMP at 306-446-1720 or Crime Stoppers at 1-800-222-TIPS (8477).