The elected representative for Vermilion-Lloydminster, Dr. Richard Starke, is denouncing the UCP's plan to implement MLA recall. The party announced part of their platform will include sweeping democratic reforms, including MLA recall, fixed-election dates, free votes and banning floor crossing.
MLA recall is a policy that most recently had support from the Wildrose Party. In 2016, a private members bill was introduced by then-Wildrose MLA Leela Aheer was introduced to the legislature. Starke, now the sole Progressive Conservative MLA, spoke about the flaws in the legislation. Now that the policy is becoming an election platform, he's speaking out about the problems it can cause.
"When you're selling it as a populist policy to a group of people, especially people who don't trust politicians, which I guess is a lot of people, the ability to put your politician on a short leash with a choke chain is appealing. The problem is that wherever it's applied it's led to greater problems, and does not function well within the realm of British parliamentary democracy," says Starke.
In his speech from March 2016, Starke outlined a number of to why recall doesn't work. He says that the policy promotes short-term thinking to appease constituents instead of long-term policy decisions for the good of the province. In a statement, Starke argues that it's often necessary for elected officials to make unpopular decisions for the good of the constituents.
Starke also points to other jurisdictions as evidence that recall has never worked in our style of government. British Columbia is the only province that has MLA recall and not once has it successfully removed a sitting MLA. A 2003 report to B.C.'s Chief Electoral Officer also concluded that the process is costly; the cost for nine recall petitions was more than $553,000, an average of more than $60,000 each.
"British Columbia has had recall wince 1995; it's been a disaster, it's been very costly and it hasn't improved their government. It's a policy purely designed to get votes, it's not a policy that's designed to improve government."
The policy may also be an unwieldy policy used by constituents. Starke adds that every time an MLA makes a decision, there may be a cohort in their constituency that dislikes them for it. Recalling an MLA may lead to the MLA being tossed by their riding for such choices.
Starke also argues that our form of government is trustee based, meaning those elected are trusted to make the best decisions for constituents. This is contrary to other political systems, which Starke says have delegates who are expected to vote exactly as their electorate expects. In his mind, our system of government already has the ability to recall MLAs, which is every four years during a general election.
"We have a system of recall right now; it's called a general election. Every four years, voters get to pass judgement on the representation they've been provided by their elected representative. If they don't like it, they can vote for someone else."
Starke says that there are many other policy changes that could be less costly than recall. Better voter engagement and partnership between constituents and their MLA are something he feels can improve democracy. He adds that there may be a need to include some form of electoral reform, such as accumulating votes in constituencies to count towards chamber representation.
Rowswell weighs in on party position
UCP candidate for the newly drawn riding of Vermilion-Lloydminster-Wainwright, Garth Rowswell, supports the idea of MLA recall. He says that there should be steps put in place to prevent constituents abusing the policy and it may only be used for troublesome representatives. Limiting recall until 18 months after the election and requiring signatures from forty per cent of registered voters are just some measures to prevent abuse.
"So it would be really difficult to get someone bounced out or recalled. But if there's something so egregious that's been done that the electorate at large or constituency wants to do it, right now there is no way to do it," says Rowswell.
Rowswell adds that he's unsure how much it might cost to initiate a recall process. He envisions a process where constituents petition to recall an MLA, and the only government cost for the process is a by-election. Rowswells sees the process as something to have ready in case of any wrong-doing or egregious step on the part of the MLA.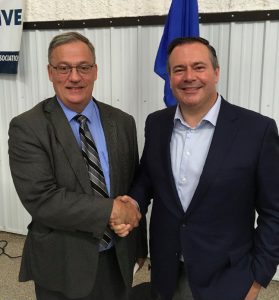 "I think you do your research, you do the best you can at the job you do, and I think most people are willing to give you a chance. There's always angry people, but they don't represent the vast majority of people in your constituency. They'd want to work with you and give you a chance unless you do something incredibly egregious."
Rowswell admits he's unsure of what situations might cause a recall process and says he supports our current first-past-the-post electoral system. Alberta briefly had MLA recall from 1936 to 1937 before being repealed by the Social Credit Party. Since 1993, at least seven attempts have been made to bring back recall, all of which have failed.