The 19th annual Business Education Conference was held by the Lloydminster Chamber of Commerce with a focus on the future. This year's conference brought businesses to the Lloydminster Gold and Curling Centre with discussions on the future of the workplace and technology.
Every March the Lloydminster Construction Association, Lloydminster Chamber of Commerce, Lakeland College, Lloydminster Learning Council and the Government of Alberta work together to bring a half-day conference to the business community. The conference is an opportunity for businesses and sponsors to focus on current issues related to the business community, featuring keynote speakers.
The first speaker was Robyn Tingley, the founder and president of GlassSKY Inc. GlassSKY advocates for women in the workplace and empowers them to become leaders in the community. The company also works to help employers understand the growing diversity of the workforce as it becomes more millennial. Tingley applauds the Chamber for joining her for a look at the effects of shifting workforce demographics.
"They're taking a longer-term view of the dynamics in the workplace, and how things are shifting. Things are shifting in terms of the people who are showing up to work, but also the processes. I think the Lloydminster Chamber of Commerce is trying to understand that for the benefit of the community, but also for competitive advantage," says Tingley.
In her presentation, Tingley highlighted the change from a transactional relationship between employers and employees. Younger generations like millennials are more likely to seek a different engagement than showing up, working and getting a paycheque. Millennials are also entering the workforce with stereotypes around on their work ethic, their goals and lifestyles. Millennials are also faced with mental health issues and are fifty per cent likely to report being at-risk for anxiety and depression.
Generation Z is also entering the workforce with distinct characteristics, such as a likelihood to not directly enter university. Tingley outline a number of points for employers to consider to retain harnessing and keeping young talent. These include training and career development, mental health and stress support, a need for in-person feedback, a desire for social impact and the need to like one belongs.
Tingley adds that the factors leading to this kind of worker are also diverse. A likelihood to be raised by a single parent and uncertain economic situation are added stressors. Younger generations also have proficiency with newer technology and are more globally diverse than older generations. Tingley argues it's worthwhile to consider what the needs are for these generations in order to harness their talents and perspectives.
She also spoke on a panel about a positive and healthy workplace, featuring registered dietitian Heather Reid and Neil Harris of Alberta Health Services. The panellists approached the topic of workplace wellness with ideas that go past eating right and stretching at the office. Tingley says that employers play a key role in promoting wellness and sees many organizations, like the Lloydminster Chamber, try to better understand how to promote wellness among new generations of workers.
"Because if we don't have a healthy worker, who feels that they're confident and that they're mentally capable and that they belong, then they're not going to bring their talents to bear. We're going to see that short-term in the workforce, but long-term there will be societal impacts."
The other keynote speaker, Dana DiTomaso, is president and partner with Kick Point. This digital marketing firm aims to help people and teams better market their brand. DiTomaso also writes as a technology columnist for CBC Edmonton. She spoke to the chamber about the value of innovation and automating tasks that take up your time.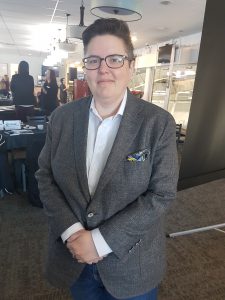 "You don't have to be a huge corporation to have automation improve what you do. Because one of the things that happens with a more level playing field in business is that the smaller businesses need to be doing just as well as the big businesses," says DiTomaso.
DiTomaso ran through different tools like apps that can help automate processes of a business. Parts of the work day that take up time can be automated to focus attention on improving your business. She spoke on a panel about how technology is impacting the workplace and how it's growing the ability to work remotely with the help of technology.
The panel also explored the future of automation. DiTomaso responds to the fear of automation stealing unskilled or semi-skilled with an openness to change. With an ever-advancing society, she argues that those who aren't resistant to change will be left behind and embracing societal changes will bring success in the long run.
"The people who are willing to change and take that re-training are the people who will be successful in the economy. I think it's important to realize that the world is changing and borders mean less, so each of us has to step it up and we need to own this and be adaptable and willing to change, and really become lifelong learners."