The 10th annual Bi-Provincial Try-A-Trade Career Expo helped students broaden their horizons this week. The event hosts 1,600 students from school divisions in and around Lloydminster to help them try out some of their options.
Fifty-one professions are designated trades in the province of Alberta. The event does it's best to feature as many as they can and give students a crack at career paths. Prospective employers are present, and it also allows post-secondary institutions to show what they have to offer, including Lakeland College, the Northern Alberta Institute of Technology, Portage College and Saskatchewan Polytechnic.
Creed Thomson is a student at Carpenter High School in Meadow Lake. Already familiar with welding he knew what to expect from that. He also tried soldering and was surprised by how strong wires can be once soldered together. When he arrived at the race to rescue someone wearing a firefighter breathing apparatus, it dawned on him he might want to pursue firefighting.
"My dad was a firefighter, and I haven't really thought about it until now. This helps me figure out what he was doing, and makes me want to look more into firefighting," says Thomson.
Alex Harrison of Pierceland Central School also enjoyed the day. He doesn't see himself as much of a tradesperson but admits he found interest in electrical and heavy machinery demonstrations. Observing and participating in some of the trades activities have helped him find a direction for after high school.
"It's definitely leading to more doors than I thought I had open for me. I was looking for other stuff before I came here, but now I'm definitely going to look at this stuff too," says Harrison.
The Lloydminster Construction Association helps organize the expo each year.  The LCA's executive director, Dorothy Carson, is pleased with how both the industry and school systems back this type of event. Carson says that right now there's a shortage of skilled trade labourers highlighting a deeper significance for industries.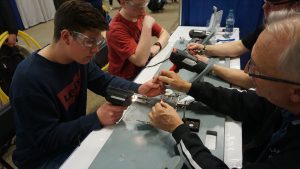 "We are seeing a shortage of skilled labourers, and we're just giving students the opportunity to see what trades there are available, and what employers are in our area, that they may be employed by one day," says Carson.