The warm weather has brought with it open trails for eager cyclists. Mayor Aalbers and others took advantage of springtime to ride their bikes across the city's trails and over to Bud Miller Park.
Bike with the Mayor was sponsored by Grindin Gears BIke and Boards as a chance to promote bike safety. Alongside Aalbers was Const. Hagel and Const. Kirzinger of the Lloydminster RCMP, deputy mayor Aaron Buckingham and members of the community who love to ride their bikes.
One of those cyclists is Ben Harrison, a local bike advocate. He started his evening adventure at Jack Kemp School before picking up the mayor at Winstone Churchill School before hitting the trails. As a year-round cyclist, Harrison believes it's a community experience to get outside and enjoy riding your bike through the community.
"It's nice in the spring and summer when more people who are interested in cycling can get together, it really becomes a community and social experience. Usually, when we get together and cycle, we're not worried about speed. It's more about taking time to enjoy being with other people in the community, and getting out to see more neighbourhoods than you see in your day to day," says Harrison.
Lloydminster certainly has a number of bike trails throughout the community. Older neighbourhoods enjoy a variety of trails that connect through Bud Miller Park and newer neighbourhoods as well. Harrison says that taking advantage of the bike trails is an easy way for anyone to get out and enjoy being active.
"As I've found here, there are lots of people who want to go for rides together. So it's a great way, if you're new to the community, to reach to other people and find an opportunity that doesn't cost a lot of money or take up a lot of time, but gives you the opportunity to connect with other people."
Mayor Aalbers had a fun evening on his bike and encourages others to do the same. He admits he enjoyed exploring trails he hadn't experienced before. When it comes discovering some of the city's secrets, Aalbers believes it's as easy as hopping on your bike or going for a stroll.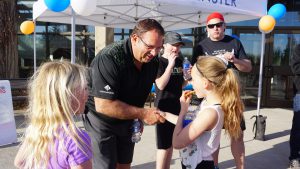 "It was great to get out and meet some new folks. It was great to see some trails I haven't seen before. I think there are some hidden secrets in our city that are just gems, and I hope people get a chance to get out, walk them, ride a bike, take a wagon, whatever works for you to get your family out. It's a great opportunity," says Aalbers.
A documentary around cycling will be screening this month at College Park School. The film Why We Cycle is featuring on May 28 at 6:30 p.m. to explore the benefits and enthusiasm around cycling from the experience of The Netherlands. A discussion will come after for the film for local cyclists to help encourage dialogue and promote the activity.