Upon completing Exercise Maple Resolve 19, Canada's next group is soldiers will be ready for deployment. From May 8 to May 25, Canadian Forces Base Wainwright is hosting the military's largest and most complex training exercise as a proving ground for soldiers entering the modern operating environment.
For 1 Canadian Mechanized Brigade Group (1 CMBG), based in Edmonton, it's the culmination of a year-long training program called The Road to High Readiness. Previously, soldiers completed a number of training exercises throughout the year including, Operations Unified Resolve, Virtual Ram and Ornery Ram, ahead of coming to CFB Wainwright. About 5,000 soldiers, including foreign allies, participate with the Canadian Army.
The exercise challenges and engages troops ahead of deployment on domestic and foreign operations in the approximately 680 square km. Wainwright training area. Lt.-Col. Ross Bonnell is chief of staff at the Canadian Manoeuvre Training Centre and the exercise director for Maple Resolve 19. He says the exercise features a full replication of the modern operating environment full of challenges for the soldiers.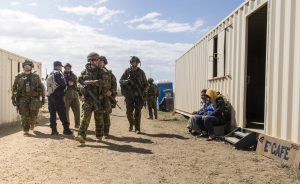 "The brigade is going to be challenged, really, on every step on the full spectrum of operations," says Bonnell. "They could be delivering humanitarian assistance on one day, they could transition to a fight with counter-insurgents on the next, before finally ending up on the war-fighting end of the spectrum. Really, the brigade is going to be challenged from day one, right until the end."
On top of challenging the soldiers to meet the demands of modern operations, the exercise helps to train 1 CMBG for interoperability with allied forces. More than 900 soldiers from the U.S. Armed Forces, about 150 soldiers from the U.K. and 40 soldiers from the French Army are participating to prepare the brigade for deployment in a multi-national context.
"What we're validating here at Maple Resolve is their ability to work with their allied partners, to understand what capabilities they bring to the table, and to really challenge that all sides are speaking the same language. So that when you have Canadian soldiers from 1 CMBG relaying a message to a soldier from the U.K. or the U.S., that they mutually understand that message."
The soldiers enter into a simulated conflict scenario facilitated by the Weapons Effects Simulation (WES) System. This complex system offers engagement simulation similar to laser tag, with transmitters ranging from the barrel of a gun to the cannon on a tank. Each soldier's vest and helmet features sensors to display damage from the effects of weapons they're targeted with. This complex system also tracks the steps of each engagement in the battlespace for analysis after the exercise.
The exercise allows for a variety of interactions with the local populations. There are signs that insurgents and enemy forces are escalating their own activities, switching the focus from improving the lives of local nationals to engaging with a simulated enemy. The goal is to bring challenges on all fronts, from interactions with local nationals to facing a near-peer enemy to bring the soldiers up to speed.
"We're trying to ramp up the tempo throughout the entirety of the exercise. There's not a lot of sleep for the soldiers while they're on this two-week exercise, again, replicating what they might see in the current operating environment."
The modern information environment
Soldiers experience as close to a real-world environment as they can. The scenario comes with actors roleplaying the parts of local nationals. Villagers, journalists, religious leaders and non-governmental organizations are all part of the simulation to provide soldiers with an operational environment. A simulated media interacts with the environment and reports information.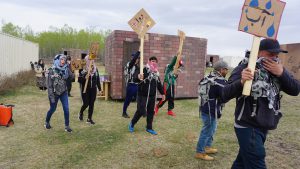 The information ends up on a closed social media platform called "Fakebook" in order to simulate the realities of social media. The platform features back and forth discourse to simulate a real social media environment and is monitored by Capt. Bonnie Wilken. She says that high-level training exercises like Maple Resolve call for more than physical and tactical training.
"In addition to the manoeuvre elements that are happening, the moving of tanks, LAVs, individuals and supply chains, we also train our soldiers to understand the information environment they're working in," says Wilken. "By having a simulated social media page, this is how we build another layer of realism on the exercise and cover that information aspect of it."
The value of this kind of training is to help soldiers provide stability in a theatre of operations. Soldiers are privy to information available through news and social media which can then inform actions they take. One village in the exercise experienced a water crisis, with those who are considered "bad guys" selling villagers water as the local population's only option.
With multiple clues that a crisis like this was happening, the troops could find a solution. Soldiers liaised with appropriate non-governmental organizations in the region to help provide the appropriate aid for locals. Capt. Wilken affirms that this kind of training is vital to help soldiers disseminate information ahead of taking action.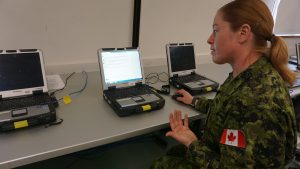 "It's critical that our soldiers have a good understanding of the information environment, not just to understand what's going on around them, but to ensure that what they're doing is correct. We don't exist on an island where we have no access to everything. The internet is everywhere and it's a whole new ball game."
After completing the exercise, soldiers are ready for deployment. The 3rd Canadian Division is responsible for High Readiness from July 1 until June 30, 2020. Potential missions include NATO support in Latvia, training counterparts in Ukraine, missions in Poland, Iraq, or domestic support missions.