The 20th annual Relay For Life raised a little more than $17,000 in the Border City. The annual fundraiser for the Canadian Cancer Society brings together survivors and supporters from all walks of life. Lloydminster's Relay For Life saw sixty-three relay participants and thirty-seven cancer survivors.
The event came together at Bud Miller Park with the help of many volunteers. Kalina Barlow is a staff member with the Canadian Cancer Society, who remarked this may have been the fastest set-up time for Lloydminster's Relay. She's been working with the Relay For Life for many years and says all the fun serves a bigger purpose.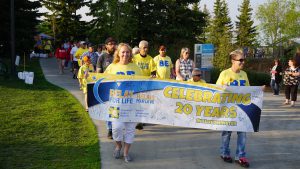 "It's always a fun event to go to, but also, all the funds raised at the event definitely go to valuable causes," says Barlow.
The Canadian Cancer Society offers support programs for those going through cancer treatment, including peer connections and information services. The society also helps fund Canadian cancer research and advocacy for those affected by cancer. Barlow says that all of the Canadian Cancer Society's work wouldn't be possible if not for the Relay For Life.
"It's really wonderful. We wouldn't be able to do the things for all the cancer survivors and their families, and all the support services that we offer as well if it wasn't for them."
According to the Canadian Cancer Society, 1 in 2 Canadians will be diagnosed with cancer in their lifetime. They aim to work with cancer patients from pre-diagnosis to diagnosis, treatment, post-treatment and survival. Cancer can affect many people throughout our everyday lives, people like Valerie Anderson.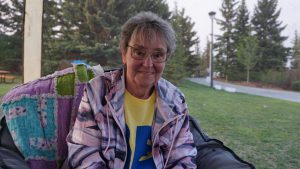 Anderson discovered cancer symptoms and consulted a doctor. When she was sent to Edmonton for further examination, it was discovered she had two different kinds of cancer. After a major operation to stop the disease from spreading, it was discovered that it had spread to her lymph nodes. Seven more operations were needed. Anderson says the experience is hard to put into words, but still affects her to this day.
"It's hard to explain how you feel, and most people don't understand what it feels like to be told that you've got cancer. Because there are chances that you may not make it, and it's hard to deal with. Even now, if I get pains or something, I panic that it's come back," says Anderson.
The CCS contacted Anderson after her diagnosis and sent her a representative. While undergoing treatment, she stayed in a low-cost home in Edmonton that offered her rides to the hospital. Now cancer-free, she's thankful for the CCS and how it supported her through a scary time in her life.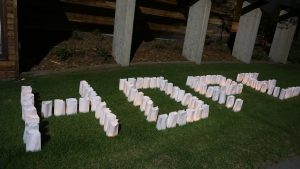 "I had been coming to relays here for years before that, so it was nice to know something I supported actually did help people. Up until then, you don't know; people say all the money goes up to them and doesn't help people, but that's not true. They do. It's very heartwarming to know that somebody is there behind your back to help you through."
Anyone looking to get involved with the CCS throughout the year can help with the Daffodil Campaign each spring. People may also sign up for the Relay For Life early to help raise money or sign up as part of the Relay's committee.