The fire department's busy weekend has prompted a safety reminder for the people of Lloydminster. Fire chief Jordan Newton is asking the public to avoid areas with ongoing fires. Newton says that fires emergency crews respond to can be dangerous, and it's best if residents avoid the areas as much as possible.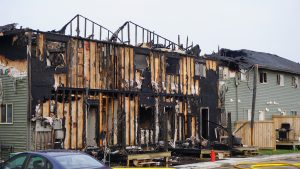 "They can be quite dangerous, these fire events, especially with emergency vehicles coming in and out of the area. Fire trucks, police vehicles and ambulances; for the safety of both our responders and our residents, just try to avoid the areas," says Newton.
The Lloydminster Fire Department responded to two fires on Saturday, June 1. At about 4:30 p.m., calls of a fire at a unit of townhouses in the western part of the city came in. The six-unit row of townhouses was fully engulfed by the time emergency personnel arrived. The blaze spread through the roof and fire crews were able to contain the fire within a couple of hours.
While significant damage was made to the townhouses' exteriors, roof and attics, much of the lower floors are said to be O.K. and not a total loss. One patient was treated for minor smoke inhalation and thermal damage was caused to the siding of the next-unit over. No occupants are able to return to the property yet and the cause of the blaze is under investigation by the province of Alberta.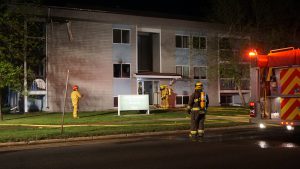 A second fire was responded to around 11 p.m. at an apartment building in the central part of the city. Multiple units were involved in the fire, which fire crews were able to get under control quickly. Occupants of the building weren't able to return to their apartments that evening, and the cause is still under investigation. The fire is not considered suspicious, and the causes of both are not related.