Pride Week kicked off in the Border City this past weekend with a pancake breakfast at Husky Place. A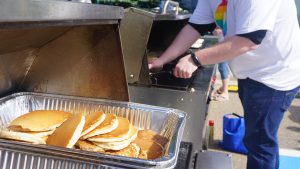 little over one hundred people came to show their support and receive a free helping of pancakes.
In honour of the event, Husky raised its own pride flag up on its flag pole. Members of the LGBTQ+ Society of Lloydminster and Husky Employees volunteered to serve up food. Kids even got to play with Happy the Husky after eating breakfast. Tiffani Wiesner, founder of the LGBTQ+ Society, is pleased to see locals come out and show their support.
"I'm just really proud of our community, and how everyone has come together to support us," said Wiesner. "I'm really happy with the turnout, and I'm so grateful for Husky and all they've done to make this happen for us."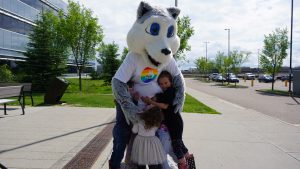 Husky Energy agreed to let the LGBTQ+ Society host the event on site. The company currently has a network for gender and sexual diverse employees in Calgary and is looking at establishing one in Lloydminster. Paul Zorgdrager, vice-president of heavy oil operations in Lloydminster, said the company is happy to support the community in a family-friendly way.
"We're a large employer in the area, and I think it's really important for us to support diversity and inclusion," said Zorgdrager. "Both internal to our company, but also externally in the community."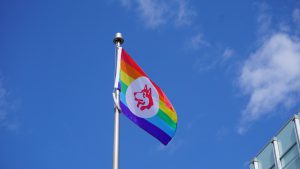 Husky's pride flag will remain flying at Husky Place for the duration of Pride Week. Other events include a showing of the film Love, Simon at Winston Churchill School on the evening of June 25, an inclusive board game night at Border City Games, a drag show called Slay The Night at the Days Hotel & Suites by Wyndham Lloydminster on June 28 and a wrap-up party at Weaver Park on June 29.