Lakeland College is enjoying the newly updated W.J. Elliott Arboretum at the Vermilion campus. First built in the 1970s, the updated design comes after being relatively untouched since then.
The arboretum is modelled after the look of New York City's Central Park. The update features 1,300 new plants, 20-plus trees and shrubs, as well as a small fruit orchard. Apple, pear and plum trees, as well as saskatoon berries and haskap berries are beside ornamental trees and shrubs.
Jaana Paavola, NPD and Lakeland's Landscape & Horticulture Sustainability coordinator, is behind the new design and hopes its a special addition for the entire community.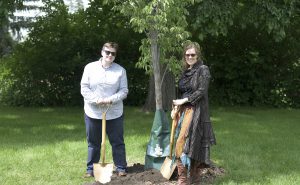 "I know the arboretum is a really important space here in Vermilion. A lot of people celebrate their weddings and have their ceremonies in that space. I just wanted to create a really nice space for the community as a whole. Not just Lakeland, but the town of Vermilion itself," says Paavola.
The redesign is a move away from annual plants towards more permanent fixtures. It follows five weeks of work with about half a dozen full-time staff. More than 1,000 yards of debris, including dead plant material, weeds and more, is replaced by new plants. More than 70 yards of soil and about 150 yards of mulch is spread throughout the space.
The aim is to create an isolated space, separated from the rest of the world where one can be with themselves. Paavola believes the space is now more opened up, flows better and will serve the community well.
"Now that we've updated the esthetics in that space, the hope is that it can expand to even to family photography, or if you want to have a picnic in the park with your friends, here's the space."
Anyone who wants to book the W.J. Elliott Arboretum for an event can contact Lakeland College's event services team.