A group of young cadets are soaring to new heights here in the Border City. Eight young men from across Alberta and Saskatchewan have completed the Air Cadets Power Flying Program, and in doing so have earned their wings.
The program selects participants through a competitive and rigorous process. Interviews were conducted, a Transport Canada Exam was aced, and students were challenged to complete various forms of training over their summer, both on the ground and in the air.
Their success qualifies each of them for a pilot's license signified by their Power Pilot Wings. Capt. Christopher Ehmann, administration officer for No. 810 Grant-McConachie Air Cadet Squadron and flying site supervisor, highlights the significance of these young men's achievements.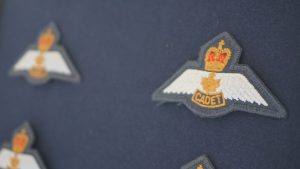 "They're the top of their squadrons," says Capt. Ehmann. "A lot of them are at the end of their air cadet careers, and it's the pinnacle of the air cadet program."
Each cadet earned his pilot's license through the Lloydminster Power Pilot Scholarship, estimated at $10,000 per student. The scholarship fully funds each cadet to earn their pilot license through forty-five hours of flight training, including dual instruction, solo flying, instrument flying and cross-country flying.
Teaching these cadets in the program is a first for Border City Aviation, Lloydminster's locally-owned flight instruction company. Despite a windy and rainy summer, chief flight instructor Steven Watt says all cadets succeeded with only 7 weeks to complete the program.
"They get 48 hours to get through the program. The national average to get through the same program is about 65 hours," says Watt.
The condensed nature of the program keeps the cadets deeply involved with no gaps in between learning. Each day of being involved in the program without a chance for regression is what Watt calls feeding them through a firehose. He adds that the students were highly successful while they flew by the seat of their pants "literally."
"We've had some of the highest marks that we've seen in (the) written exam in recent history actually, from the cadets here. They definitely came, and were switched on, and had their head in the game trying to give it their best."
Success in the program and earning a pilot's license is certainly no small feat. The license opens up new opportunities and a base for the young cadets to build on their futures. Cole Mccaskill, 17, warrant officer, second class, of No. 30 Wylie-Mitchell Air Cadet Squadron in Estevan, Sask., affirms this achievement as one of his biggest dreams.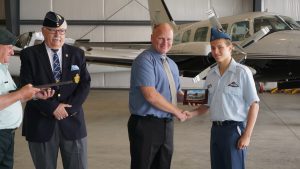 "For a very long time, I've always wanted to be able to fly the airplane by myself. It's just so fun and freeing, and nothing else matters at the point. You're in control of the airplane, and that's the only thing in that moment that matters."
In the future, McCaskill hopes to make a profitable aviation career and plans on joining the Royal Canadian Air Force. He also encourages other young people to pursue a similar path, or achieve their own pilot wings, to join their local cadet squadron before they're 18.
The reviewing officer for the wings parade and pinning of pilot wings, retired Brig.-Gen. James Hunter, sits as the national president of the Air Cadet League of Canada. Hunter holds a decorated career in the Royal Canadian Air Force, lasting 42 years. He credits the Royal Canadian Air Cadets for all it has done for him, and what it continues to do for young cadets.
"They learn a lot about themselves," says Hunter. "When you're up there, flopping around in your solo for the first time, with all the responsibility that comes (and) literally your own life in your own hands, it gives you a perspective that you haven't had before. It opens your eyes to yourself; you learn a lot about yourself moving forward."