The 11th annual Burgers to Beat MS is dishing out burgers for a good cause. Lloydminster residents flocked to A&W restaurants around the Border City in support of the MS Society of Canada.
All locations in Lloydminster, and 950 across Canada, are doing their part to fundraise for those affected by MS. Two dollars from every teen burger sold at the location is raised to donate to support the many ways the MS Society supports multiple sclerosis patients. It's a cause Mayor Gerald Aalbers found worthy of helping out as he brought trays of burgers and root beers to customer tables.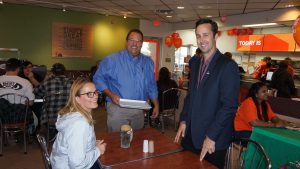 "We have people that have been affected by MS, and the MS society is helping those people," says Aalbers. "They're doing research and it's a great opportunity to give to a great organization."
Mayor Aalbers wasn't the only local leader here showing their support and lending a hand. Lloydminster MLA Colleen Young was also on hand helping wipe down some of the tables and chairs for new customers to enjoy. Young finds great value in the MS Society, lamenting the medical progress yet to be made.
"I think it's a very important cause. As you know, we have thousands of Canadian citizens suffering from MS. You know, we haven't come to a point yet in medical history where we've been able to find a way of helping these people with their suffering," says Young.
On top of Canadian research into causes and treatment, the MS Society supports advocacy, as well as programs and services for those living with MS. Those programs and services are directed to benefit locals who are living with multiple sclerosis, including 26-year-old Bobbie Nunweiler.
Bobbie felt her symptoms as early as eighth grade, but a diagnosis wouldn't come until 2010, the year she graduated high school. Her youth often leaves people surprised to learn she's one of the many Canadians living with MS. Bobbie finds it hard to get across that her symptoms are real often because they're symptoms you can't see.
"It holds a big challenge, and a lot of the time people will (think) you look fine, so you are fine, when a lot of the time you aren't," says Bobbie. "I might not be able to see, or I might be having memory fog, or I might be in a high amount of pain."
Born and raised in the Border City, Bobbie has watched the support for the MS Society grow every year. She believes that each year, the support from the community gets better and better, and could hardly believe how full the restaurant was when she arrived.
"It seemed like everyone in here knew everyone, which is really cool to see a community where everybody looks across the table and talks to each other, and they're all talking and having lunch. It's very inspiring."
With one of the highest rates of MS in the world, Canada has a huge incentive to help find a cure. To date, Burgers to Beat MS has raised more than $13 million for the MS Society of Canada. Tammy Klotz of the MS Society's Lloydminster Chapter believes it's done even more to fight multiple sclerosis.
"It's put the MS Society in the public eye, for people to realize how many people live with MS," says Klotz. "I think that's really important; right now we have over 77,000 Canadians living with MS and 11 people are diagnosed every day. It's such an important public awareness we're trying to get out."
This year, the MS Society of Canada hopes to surpass $2 million in funds raised.