Father Gorman Community School had an early celebration of World Teacher's Day.
In September, LCSD sent out a message to all their teachers telling them to send in a video of them describing what they love about being a teacher and they could win a Friday afternoon off. They had an overwhelming reply. 
Every teachers name that sent in a video had their name put on a slip and was put into a bowl. The name picked was Lenroa Hobbs, a grade 6 teacher. 
Hobbs says that she was shocked she was the winner and explains what she loves about being a teacher.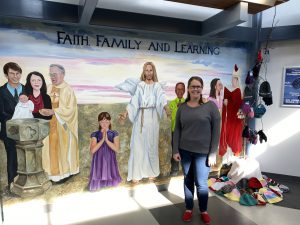 "I get to build those relationships with kids that last beyond the classroom. So, a few years ago, I had some students return and had a time-capsule we made in grade six. So, we got to share all the memories we had before and kind of relive those moments, and I thought it was great that they'd be willing to take their own time to come back and visit me."
She believes that everyone that reads, write or does math should thank a teacher. Hobbs spent her afternoon off taking a long lunch, visiting some friends and buying a lottery ticket. She says she feels very blessed to work with her fellow teachers, that its like on big family. 
"I put on there alot of things. I gave him about 20 different exercises he could do with them, and he said, no I'll just take it from wherever. So, not sure what they have planned but I'm sure it'll be something fun," says Hobbs.
The Director of Education, Nigel McCarthy, took over Hobbs grade six class. He once was a high school english teacher. 
McCarthy says that the afternoon provided him with an opportunity to be in touch with the kids. 
"We are just here to take an afternoon in the classroom with a group of kids. The origin of this was that teachers all have the opportunity to a story of why they love teaching. We had 30 teachers enter into that little call for competition, and the prize draw was to have me take you class on a Friday afternoon."
McCarthy was going over French riddles with his students, it is an intensive french class. He says that this lets him understand whats going on in the classroom. 
"I think we all know that teaching is a long year of work and pursuit of goals and the pursuit of excellence with kids. But, there's lots of opportunities to just have some fun, and, you know, that's hopefully what we're doing here this afternoon and Father Gorman is a family. It really feels like that when you walk these hallways, and you work with these teachers and when you see these educational assistants,".
This was the LCSD first year doing something for World Teacher's Day, and they are planning on celebrating the day again next year.