Those entering the Border City will soon be welcomed by some new signs.
Lloydminster city council has given the entrance sign contract to Edmonton based PM Signs to design and build four new signs at each end of the city for over $185,000. The project will be funded through the city's Entrance and Placemaking Signs Budget which was saw $200,000 budgeted for two signs last year.
Councillors Ken Baker and Glenn Fagnan voted against the decision. Fagnan says he talked to residents to get their feelings on replacing the signs and most were against it.
"Most of the people that I've talked to, and it was a good cross-section of the community, felt that spending $200,000 on signs was a bit excessive. I would say 90 per cent of those people were not in favour of spending those kinds of dollars for various reasons. They felt it wasn't a good use of taxpayers dollars at that time."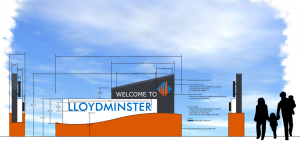 During the council meeting, Fagnan mentioned the idea of circular economy, a system aimed at eliminating waste, and instead of replacing the signs they should be repainted and reused.
"Many municipalities are doing in many different aspects. I mentioned our wastewater treatment plant because of what's going on there, the circular economy, we're going to be having a byproduct but yet we're going to be able to sell that and generate revenue from it." 
While he doesn't agree with the decision, Fagnan hopes the new signs will reduce littering near the signs. 
Councillor Jonathan Torresan believes will help in the beautification of the city and will increase economic development during high traffic tourism events like the 2020 Summer Games.
"We're going to continue to have up to date marketing and continue to market ourselves to the outside world, whether that be businesses or individuals coming to live here or whatever the case. We are going to continue to do beautification projects so long as there is appropriate value in doing it."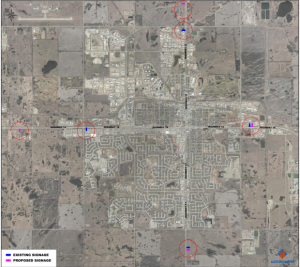 Torresan says he is comfortable with the decision as the signs are under budget and will last up to 25 years.
"There's definitely some opportunity when you're in a downturn to get a good value on what you spend on your marketing activities. I think you see this in business when sometimes they renovate or rebrand their marketing and I think the city continuing to update their branding is really fitting in line with what you see in the business community." 
The current signs were approved in June 1990 and city administration believed they've reached the end of the useful life.
Designs for the new entrance signs have not been finalized but must include solar panels to power the LED lighting. Installation is set for December in a proposed schedule but it is weather dependent.