A local non-profit organization is offering a warm place to stay as the weather begins to get colder.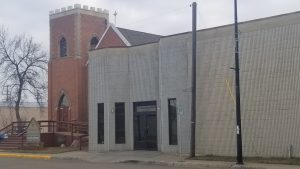 The Lloydminster Social Action Coalition Society opened the doors to their drop-in centre on Monday, November 4. The centre is located behind the St. Johns Anglican Church on 4709 49 Avenue in the old Youth Centre building. It is open from Monday to Friday from 9 a.m. to 4 p.m. 
Drop-in Manager Riley Gilroyed says with the current economy and the changes in weather, people without shelter need a warm space that also provides some community support. He also says they will not discriminate and will welcome those under the influence of alcohol or drugs.
"We really view this place as a place where men, women, anybody, in general, are able to come and experience it and perhaps call it home in some way." 
The centre has basic amenities with tables, chairs and a small kitchen to feed those in need. Gilroyed says this is the first step and hopes to have it open later and during weekends as well as adding more things like TVs and other things to make it more welcoming. 
"This will hopefully be a long term project. Today is our soft opening and hopefully, down the road, we'll have a grand opening. We want to make sure everyone is aware of the place and everybody has a place to go at the end of the day if they don't have one."
The centre is looking for volunteers, those interested can contact Gilroyed at the drop-in centre.