Lloydminster Comprehensive High School students are honouring the lives lost in battle.
The school is honouring the lives of Canadian soldiers and Canadians who lost their lives through war with two different projects.
In the dog tag activity, students used the Canadian Virtual War Memorial to research the life of a fallen Canadian Armed Forces member. The activity focused on Indigenous soldiers, women members and soldiers that fell in Vimy Ridge and Afghanistan.
Grade 10 student Lynden Carey says the biggest thing he noticed while working on the project was how many soldiers died at a young age.
"This one guy just got out of school. I would say he was 19-years-old when he died. Herman Black was his name. He just trained and got to the war and he died. He was so young and didn't have much time to live." 
Teacher Jemma Porter echoed the sentiment saying Cary wasn't the only student to notice that detail.
"As they go through the dog tag activity, one of the things they search up on the fallen member is their age. A lot of the fallen Canadian service members were in their 20s and I think that really hit home with students. It was one of the comments that came up quite a bit."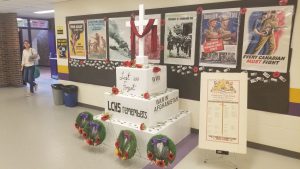 Construction and carpentry students built a cenotaph to commemorate the fallen soldiers and art students painted and decorated it with the names of the different wars and battles the country was involved with.
At the end of the week, students will gather the names of relatives who have served and display them during an hour-long ceremony.
"They should get more than a day. I feel like we should have it all year round remembering them because they put down their lives for us," says student Morgan Lee.