Some Lloydminster school staff had their backs against the wall to raise money for the school.
The School Community Council organized a fundraiser to tape École St. Thomas school staff to the walls of the gym.
On November 8, students gave a dollar for a piece of tape and had a choice between their principal, Lisa Marie Kreese, vice-principal, Chantal Forcier, and the LCSD Director of Education Nigel McCarthy.
Kreese says the school has done the event in the past but not as a fundraiser.
"When our fundraising committee was getting together for our school community council they said instead of having kids sell things or go door-to-door could we do events that the kids could participate in and raise a little spirit and raise money at the same time."
She says it's a way to engage the students with fundraising activities and the reception has been positive.
"I just talked to a teacher and she said her whole class brought money and some of them brought $20 for 20 pieces of tape to put me up on the wall. I'm really excited about it and I think the kids will have fun and so will we."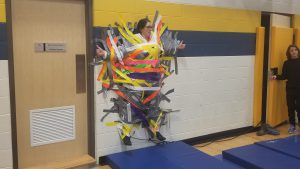 The students lined up in front of the person who they wanted to tape which Principal Kreese received the most support. Kreese was the only one to not fall immediately after taking away the benches that held up the staff while they were being taped to the wall.
Money raised from the event goes back to the school and the SCC which supports the school by funding extra programs and family events. Kreese says the two groups work in tandem to provide the best for the students.
"We set academic goals in math, reading and writing in French oral language and our SCC designs goals around that. So when they support, for example, Carnival or help us pay for bringing in speakers or workshops in French then they're supporting that oral goal."
The SCC is planning more fundraising events including a read-a-thon and lunch with a staff member later this school year.