The average monthly rent in Lloydminster has remained fairly flat and below both provincial averages.
The November National Rent Report from Rentals.ca shows the average monthly rent for a one-bedroom was $838 in October, which is up from $798 the previous month. Rent for a two-bedroom apartment was $934 which was slightly down from $950 in September.
Rentals.ca says average rent for all property types in the Border City is flat year over year, averaging out at a $930 a month.
The average rent for all property types in Alberta was $1,265 and $1,102 in Saskatchewan.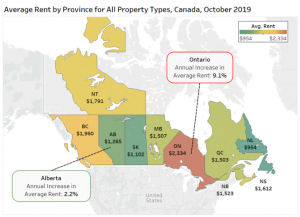 Toronto and Vancouver remain the highest rental costs in the country with both seeing an average monthly rent of over $2,000 for one-bedroom and close to $3,000 for two-bedrooms.
The average monthly rent for Canadian properties in the last month was $1,940 which is an increase of 5.5 per cent annually.