The Lloydminster Cultural and Science Centre was the focus of a lengthy report which included an assessment of the building and its exhibits.
The report found the current building is in need of significant upgrades in the roofing and replacing the HVAC system. It also notes the space and layout is awkward and makes exhibits and themes inconsistent.
The report provided the council with three different options on how to move forward with the building, two of which would see a completely new building being constructed.
The first option would see the original LCSC building demolished and pre-fabricated Quonset huts would be built for a total cost of approximately $12.9 million. The huts would be connected by a corridor and has room for future expansions. It is the least expensive and will give the centre a unique look but could be polarizing.
The second option would keep the main building, renovate it and add a large Quonset hut. It is the most expensive option at $18.4 million total but would make more difficult to have distinct areas for exhibits.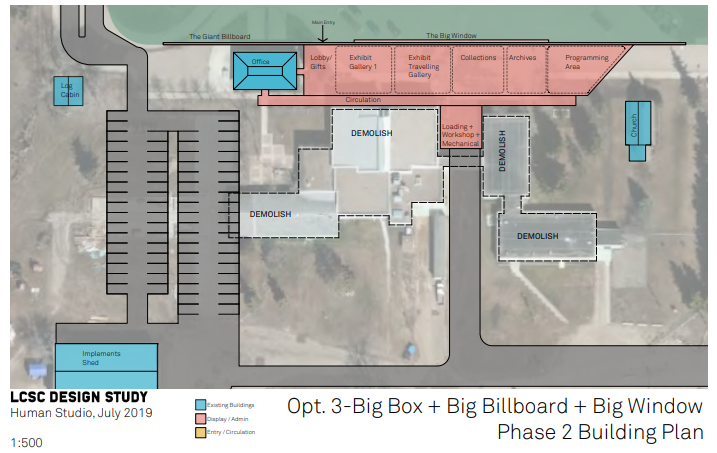 The third would be a "big box" design with a billboard-like front wall and big windows for a total cost of $13.7 million. The design would allow people to see some of the collections from the outside but wouldn't give the building any distinct character.
Councillor Michael Diachuk says before council makes any decision they will be looking at whether the city is getting a good value on the project.
"The value that we get must not only be relevant for today but relevant from 10 to 20 years from now. We don't want to spend good money after bad."
He says there are other factors to consider such as if the new building should be in the same area as the current LCSC.
Councillor Jonathan Torresan echoed the sentiment saying more discussion needs to happen with the community.
"We've really got to look deeper at what that facility needs to be to the community to really get the most value for our residents."
Both Torresan and Diachuk mentioned they've heard from a few residents about the importance of the arts and want to see a continued presence in the community.
"The public by and large, from the people I've talked to, see the value and what goes on in that facility and want to see it sustained," says Diachuk.
A "Your Voice" night will be held on December 3 where residents can discuss the future of the LCSC building and several others at the Servus Sports Centre's OTS room from 4 to 7 p.m.