Several Lloydminster non-profits will be getting less funding than they hoped next year.
The city approved a total of $367,000 in non-profit grants and a total of $420,000 in Family and Community Support Services grants for many organizations in the city. Last year, they received $445,000 in grants and $415,500 in FCSS grants.
The city received requests from 12 organizations for the non-profit grants however, only four received funding. The SPCA asked for less funding this year and received the $75,000 they requested. The Vic Juba Community Theatre received $181,500, Startup Lloydminster received $80,000 and the Lloydminster Regional Archives Association received just over $39,000.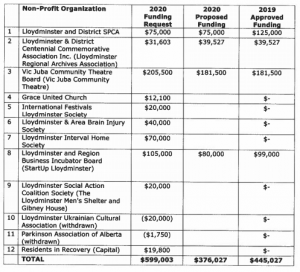 Mayor Gerald Aalbers says the four organizations play a vital role in the community and the city would be responsible for their services if they were not funded.
"They all have the best interest in the city. The SPCA provides a service to the city by contract and we support them with an additional grant so they remain functional and operational from the dollars and cents side."
"It's, in essence, to keep projects within the city moving forward with direct ties to the city but are at arm's length from city hall and direct control from administration."
Council noted that the information on who should apply for these grants was too broad which led to the high number of requests. Councillor Stephanie Munro 
"Coming into the new year it is something administration is going to be bringing back to us to reevaluate the criteria to be applying to these third-party asks. In the long term, are the four that we did approve, are they a third party ask or should they automatically be in the budget."
While most organizations will be receiving the same amount of funding in FCSS grants as they did last year there will be more and less for some. The Lloydminster Interval Home Society will be getting $12,000 more than last year and the Lloydminster Area Drug Strategy will be receiving $6,000 less than in 2019. The Catholic Social Services will have $8,000 less for their Senior Connections Program in 2020.
Councillor Jonathan Torresan says while some organization didn't receive funding from the non-profit grants they will still be getting some funding from the FCSS.
"Although it's an entirely different process at the end of the day it is funding provided by the city and supported by the province of Alberta."
The FCSS program is an 80/20 funding partnership between municipalities and the Province of Alberta in support of programs and organizations that provide preventative social services.