A family in Lloydminster received a tree for Christmas from a local student. 
Tyler Pierce is a grade five student at Rendell Park Elementary School. When he was in grade two, he decided to donate a tree to a family that was in need. He has continued to give a tree each year and plans to continue his tradition next year. 
"I got some ornaments and a tree topper for them, too," says Pierce. "(The ornaments are) red, white and green."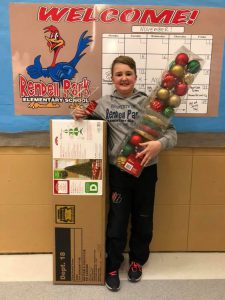 He saves his money that he receives from helping his grandparents at their farm. Late last December, Pierce bought this year's artificial tree when it was on sale. 
Principal of Rendell Park, Sheldon Gallagher, explains the school posted a message on Facebook.  
"It was difficult. We had three families to choose from and then in the end we had to choose one. We randomly chose one just so it was as fair as we could." 
In past years, one family would respond to each post. However, this year, two people had sent a Direct Message via Facebook, and the other family called the school directly. Last week, Pierce and Gallagher gave the tree to the family.
"They were really excited about having a tree. She had two young ones, that wouldn't have had a tree otherwise. She was teary-eyed and very grateful for the generosity of Tyler."
Tyler Pierce's mom, Amy, explains he has always been a kind boy. One evening, they were talking about families that had a hard time providing food for their families, and asked if they'd receive gifts too. After she explained to him they might not, he wanted to help by giving a tree to a family. 
Gallagher mentioned Pierce does all the heavy lifting with the project and the school only helps him find a family. Earlier in the year, the school had a Food Drive.
"The Rendell Park Parent Council just finished a food drive, which was massive. We collected a huge amount of food, and then we gave a bunch to the Olive Tree, and then are also going to disperse it amongst our families as well." 
He describes Pierce as an extraordinary and generous young man. Gallagher also explains it's great to see young people with these qualities that Pierce has.