A Barr Colony grade five class is sending handmade cards to the Stollery Children's Hospital in Edmonton.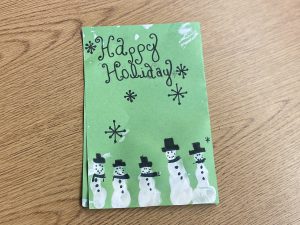 Justin Saulnier started teaching at Barr Colony three years ago. He wanted to show his students that there is more to the season than giving and receiving presents. 
"There are many reasons why we celebrate Christmas, and some people really struggle over the holidays and we're trying to spread cheer to a group of children that are struggling and maybe we can put a smile on their face during this holiday season."
Earlier this month, Saulnier's class started on the project he calls, Christmas Cheer. The students took a coloured sheet of paper and folded it in half. After, they thumb painted snowmen on the front of the card. On Monday, December 9, the class coloured in the features on the snowmen and added happy holidays.  
"We're writing cards to the Stollery Children's Hospital. The kids are writing a short letter with well wishes and then we insert it into a card to send-off."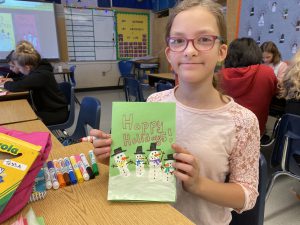 Each card will say warm wishes along with words of encouragement. However, sensitivity in the message plays a major role because the kids are patients at the Stollery Children's Hospital.  
"I was just looking for ideas to talk about Christmas in other ways; more than just gift-giving, and about raising awareness to other groups of people and people that struggle over the holiday season," says Saulnier.
Once the cards are completed this week, Saulnier will mail them with a note explaining who they are from. After the Stollery Children's Hospital receives them, they hand them out to children staying there over the holidays.