Students at Father Gorman Community School are getting an interactive learning experience in their science class. 
Mitch Cherry, grade seven teacher, was able to buy a Tower Garden. It has UV lights that run for about ten hours a day, acting as the sun. At the base of the tower, water is stored. Throughout the day, it waters the plants. Cherry explains that the plants grow in pods not soil, so there's no mess.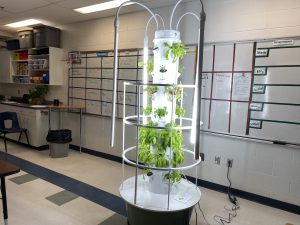 "At LCSD, we really want to improve our student engagement as much as we possibly can. Having students interact with something, like the Tower Garden, allows them to feel, touch, smell, instead of having just a worksheet, putting things into action in the classroom."   
Students in his class check on the plant daily, making sure the pH levels are correct. Alexza F. choose to plant arugula because it's high in vitamin B and cleanses out toxins. 
"In our science class we are observing how (plants) grow, and what we are particularly working on is sustainability. Because as our human population grows, we need to find a way to feed all the people."    
She says the class was able to choose what plant they wanted from kale, lettuce, sweet basil, colored chard and arugula. Gleedo B. decided to plant both kale and lettuce because he likes lettuce and also didn't know what kale was.
"We put a little seed in this green cube, then we insert these holes. We fill the water up, then the water
automatically goes to the plants and waters the plant."
Gleedo says his favorite part of this project is to work with his friend and learning how a seed grows into a plant. 
"This generation of students is going to be a huge part on how we as humans are going to survive for future generations. With seven billion people on the planet, we're going to need to figure out ways to grow food for all these people. Today's a great example, it's -35 outside and yet we're growing quality vegetables inside our classroom," says Cherry. 
He explains the vegetables grow up to 30 per cent faster with the UV lights. The class will continue to use the Tower Garden until the school year is finished.