UPDATE: Lloydminster Fire Department was called to a fire at a building on 62 Avenue and 44 Street at around 2:40 a.m.
Assistant Fire Cheif Bill Heesing says two pumper trucks, a rescue truck and ladder truck responded to the scene.
"We took a defensive strategy to try and contain the fire from the outside. We made a call for mutual aid with Britannia and Legacy Fire Departments so they were able to assist us. Three fire departments worked on this fire for quite a few hours and we're still on the scene today putting out hotspots."
Heesing says the fire departments working together on a single fire doesn't happen often but everyone worked well together.
Exsile Outdoors and a Tirecraft storage warehouse which occupy the building were significantly damaged by the fire but ME Tire at the west end of the building had no fire damage.
"The tire shop at the end has minimal damage, it has water damage but no fire damage. We were able to stop going into their shop but unfortunately, two out of the three businesses has some significant fire damage."
Heesing says about 30 firefighters were at the scene and none were injured. He says the firefighters on the scene took precautions as they were aware of the ammunition inside the building.
"The wintery conditions, it's icy and cold but I'm proud to say that everybody made it home safe at the end of their shift."
The harsh weather conditions weren't a factor when attacking the fire but created a large amount of ice in the area. The fire department is working with the City of Lloydminster to have everything back in service by the end of the day.
The cause of the fire is still under investigation.
Correction: A previous version of the article stated ME Tire was located on the east end of the building and had minimal fire damage. The article has been corrected.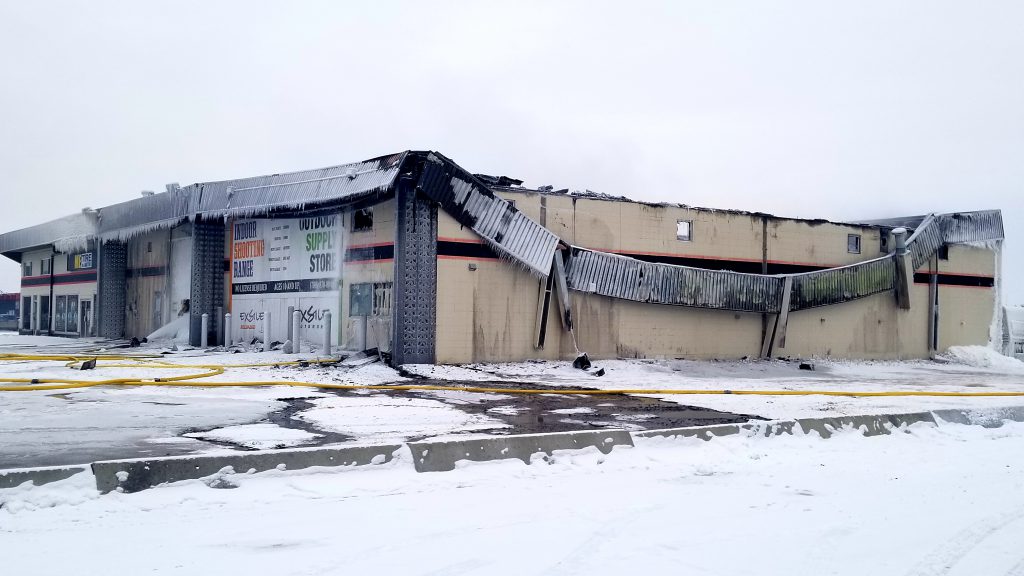 ———————————————————————————————————————–
The Lloydminster RCMP and the Lloydminster Fire Department are investigating a fire that occurred in a business in the 5900 block of 44th street.
The cause of the fire is still unknown and the investigation continues.
Due to the road conditions near the scene, Mounties are asking the public to avoid the area.