The Vic Juba Theatre is starting the year with a goal in mind and a backer in its corner.
An anonymous donor has pledged to match up to $150,000 in donations given to the Lloydminster Regional Theatre Foundation this year. Foundation Chairman Gwen Mottram says the backer has been a long-time supporter of the theatre.
"We are so happy that they are going to help us kickstart this campaign. I feel like it's obtainable and we're really excited about it."
All money raised by the foundation during 2020 will go towards the multi-purpose space expansion. Mottram says they hope to raise $1.1 million for the expansion and they've already gathered about $135,000.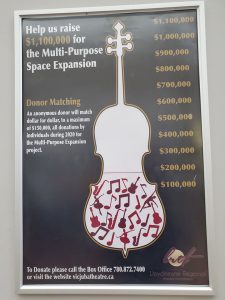 "Right now during dance festivals and school Christmas concerts, it's so packed backstage. It's wall-to-wall people and what we need is more space."
If a bigger production needed more space, the foundation would sometimes use the Blackbox Theatre however, the venue has had an increase in programming meaning the foundation is more limited when trying to book it. The foundation is hoping to do more with the extra space.
"It'll be used as an additional dressing room for larger productions like the symphony and it'll also be used for receptions for artists. That's a bit of an issue right now. We don't have any place for VIP receptions and we can use it to host smaller events. Perhaps 150 people could come to a smaller concert and it would be held there."
The Vic Juba Theatre sees about 35,000 people walk through its doors every year and Mottram says they'll be hosting about 175 events at the venue this year.
"Everybody always comments about how they love coming to the venue and the artist that tours through also say it's a jewel."
The foundation is currently ironing out some details on future events that will benefit the theatre but aren't ready to announce them yet.