Lloydminster residents honed in on substance abuse and a stronger dialogue with police during the RCMP's town hall sessions.
During the first of two town hall sessions on January 15th, Inspector Lee Brachmann says one of the main issues brought up was communication between the police and residents.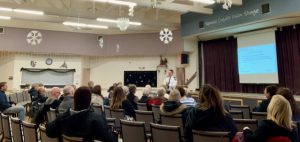 "Perhaps there is an opportunity for the Lloydminster RCMP and the community to be more engaged through regular updates, regular communication whether it's through media, social media or whatever it may be."
As drug and alcohol abuse have an underlying effect on crime in the community, Brachmann says it's important to deal with those issues at its root.
"[We can] develop strategies, not just enforcement strategies, but working with our partners as well in the various fields to deal with those underlying issues pertaining to addiction and whatever else."
Understanding some residents may be hesitant to contact the police, Brachmann believes this is one of the best ways the community can help the detachment.
"Even if we're not able to act on it right away, it's just a matter of developing that trust to that it is not falling on deaf ears, that we're taking that information and are determining where to act upon it."
At the Legacy Centre, Brachmann spoke on spikes in certain crimes throughout the city with the Crime Reduction Strategy in play. He says during the year the detachment makes adjustments when needed to tackle emerging trends.
"I think it's important for the Lloydminster RCMP to engage with the community because the numbers and stats only provide half the picture. It's a matter of also getting out and interacting with people and seeing what they're seeing in their homes and in their businesses and the issues that directly impact the people here."
As mentioned in City Hall in November, the RCMP's crime reduction strategy is having a positive outcome in the community. The plan focuses on property crime in Lloydminster based on research and information on repeat offenders, prolific addresses and crime hot spots.