The Battlefords Pride fundraiser gala displays the groups continuing efforts to bring diversity and inclusivity to the Community.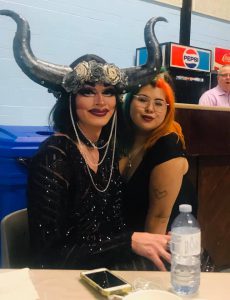 Backlash is usually a common occurrence whenever Battlefords Pride members put on an event, according to president Bobbi Sue Thompson. She says this time around there was none, just support.
"We are a part of the greater community and we realize that. We have to work with the community in general. We, unfortunately, we have to work on our reputation. There is a negative connotation with LGBTQ people that is not earned, there is prejudice there and we have to fight that."
The event received financial support through a lottery grant through the City of North Battleford and from Sakewew high school's General Services Administration. The gala's guests included Saskatchewan's Lieutenant Governor Russ Mirasty.
"We're getting support from other groups as well. We're getting bigger and we're gaining more awareness which is a major part of what we're doing because that's the beginning of any organization is creating awareness of your group and the need."
Around 100 people participated in the event on Feburary 1st at the Don Ross Centre with funds going towards an LGBT-positive safe-space drop-in centre in the Battlefords.
Thompson says there are a large number of closeted in the community who in some cases aren't coming out because they have nowhere to go.
"We don't have an LGBTQ place period. There is no gay bar, no coffee shop where gay people congregate because we're a smaller community. There is nowhere and for any marginalized group, it is very important to have space."
Thompson says the growth of the Battlefords Pride has sparked communication between other groups such as the LGBTQ+ Society of Lloydminster. The Border City group is having Valentine's Day drag event at the Royal Canadian Legion on Feburary 15th.