City council has decided on a design for the new entrance signs outside of the city.
Council was presented with two designs for the four new signs that will be going up at each end of the city.  The original design was larger at 8 feet by 16 feet and featured three different layers and an image of the border markers. The new option is 9 feet by 14 feet with artificial wood panelling representing the city's agricultural roots. Both are made of aluminium with LED lighting the city's name.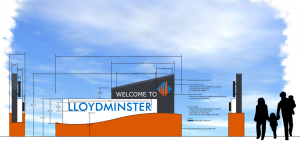 The first design was projected to cost $185,000 which fell below the budgeted $200,000. The second design has an added material cost of $2,000 per sign increasing the total cost for the project to $193,000.
Council chose the second option. Mayor Gerald Aalbers says the new signs will help create a good first impression to those visiting the city.
"We want to present a modern clean image. I often heard about how clean and nice our city was over the summer from people travelling through so we are trying to encourage that."
"It's really the quality of the sign that we are looking at. We are going solar powered so there are no electrical needs. It's things like that and a sign that's aesthetically pleasing," he adds.
The current city signs were put in place in 1990 and the new signs are expected to last 25 to 30 years with regular upkeep. Councillor Torresan still approves of the council's decision as he believes it was an economic buy for the city.
"When we had originally budget, we had budgeted to get two signs and we're getting four signs out of the deal. In terms of the cost-benefit of that decision, we are getting a lot more than what we had originally thought of getting."
The motion passed 4-2 with councillors Fagnan and Buckingham opposed. Buckingham says he voted against the motion as the new signs will show inconsistent branding when the downtown signage is considered.
"We're going to have another request come to council some time to match that sign with the other four entrance signs. The argument can be made both ways. I voted against it today for the branding and keeping it consistent but I can also subscribe to the argument that we need to modernize and maybe the new signs do that."
With the approval by city council, the signs will now go through a permit approval process by the Government of Alberta before being installed.