Students at Father Gorman Community School are performing small acts of kindness throughout the entire month with the hopes of all 470 students taking part in the kindness missions.
The grade 4 class are going throughout the school handing out small missions such as saying hello to someone you've never met before or complimenting someone. The students will complete the mission and tell one of the grade 4 students who will then note it in a logbook and give the student a prize.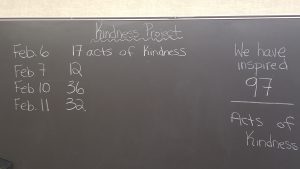 So far, 97 kindness missions have been completed in the four days since the project started. 
Grade 4 teacher Devan Arsenault says her class has been inspired by the acts and are always willing to lend a hand to help others.
"They can make a difference by giving their time at recess to help kids be kind and thank kids for their kindness. Having such an impact on such a large scale really means a lot and shows grade fours that even though they're not the biggest kids in the school they can really make a difference."
Arsenault ran a kindness project last year and says her one regret with that one was not all students could participate. With this project, she wanted to make sure all the children could get involved.
"It's to show kids that being kind is an easy thing to do but it can make a difference in how our school feels and how we make each other feel."
Student Seryn Bennett says she's been having fun and hopes more kindness will be spread throughout the school.
"We want everyone to feel kindness and joy so everyone in the school can be happy. I think we're doing a good job and we're starting to experience more kindness around the school."
Teague Corpe says the kindness acts have had a spiritual impact on him.
"I want to experience the Kingdom of God and here I am experiencing it," says Corpe. "Once we get a hundred I'm guessing that everybody's going to get to experience the Kingdom of God."
He hopes the school will continue doing the kindness missions every year.
The kindness mission project is funded through Beyond Borders Circle of Change's Kindness Wins grants.