Rendell Park Elementary students are working on a project they hope will help students for many years to come.
The grade 6 class created the "I in Kind" project. The students ask all the other school children what they can do to spread kindness and have them write it out on a small whiteboard. They then step up in front of the Kind board and present their idea and the grade 6 students take a picture. 
The pictures will then be posted on bulletin boards or on the monitors throughout the school during the school year.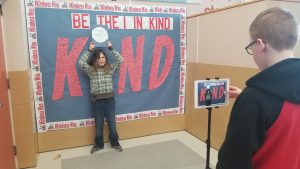 Grade 6 teacher Shawn Coulter says the projects let everyone in the school get involved.
"The ideas have been wonderful and a lot of them my grade sixes didn't come up with themselves. The younger kids have a different idea of what it is to be kind."
Student Libby Sherbinin says her favourite part is listening to all the different ideas that come from her peers.
"One kid said a way to spread kindness was by washing their mom and dad's toilet."
She says the class wants the project to keep having an effect on students even after her class leaves the school.
"[We want] to leave something for the younger children to be able to know how to be kind and be that good person in the world that could really change the world."
Coulter echoes the sentiment and says while he and the class started on the project collaboratively, they've now taken over and working on it on their own without help.
"A lot of them want to leave it with a positive impact and this is one of the ways they can show others what it's like to become a leader in this school and what you can do to help out."
He says the project has been helping the students build their leadership skills even for those who don't normally step into that position.
"A lot of them would do this at the drop of a hat but for others it's not natural for them to be out here and to feel that leadership and command a group and have the younger students looking up to you. It's a great feeling for some of the students who wouldn't do this automatically."
Coulter says the project will act as a reminder for the students to be kind when they see their picture in the school.
"It's going to be a bit of a reminder that there are a lot of things that we can do that maybe don't seem like a big deal at the time but makes them feel good about themselves."
The project was funded through Beyond Borders Circle of Change Kindness Wins grants.