Lakeland College's School of Environmental Science is going bigger and better with the second conference.
The school will be hosting the second annual Conference on Environmental Management after Program Head and Practicum Coordinator, Nicole Nadorozny, PhD, says their inaugural event last year was a success and exceeded their expectations.
The conference is designed for the students to present their capstone presentations to industry professionals. She says they expected to have about 60 attendees last year but instead had 325 people attend the conference.
"It is bringing folks from around the surrounding communities and environmental experts in the same room with our student body. We're trying to create an opportunity to learn, share and network."
For this year's event, the program has brought in conservationist Brian Keating as the keynote speaker.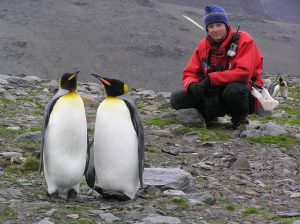 Keating has travelled the world-leading groups on nature-based travel exploring wildlife areas around the planet. He is also an Honorary Conservation Advisor for the Calgary Zoo as well as an adjunct assistant professor of anthropology and the University of Calgary.
"A big part for us is that he is a Lakeland graduate and for our student body it's important for them to see the potential that any of our grads could potentially aspire or to become."
Keating received a diploma for Wildlife and Fisheries Conservation from Lakeland College. Nadorozny expects his talk to have a big impact on attendees as he knows the area and the program. 
"He's very much an educator, an entertainer and does a lot of public speaking events. He travels the world to speak to people about the world around us."
They will also be holding a panel forum about the connection between Indigenous traditional knowledge and Western science.
"There's a need to explore what that looks like. The pathway still isn't clear and here is an opportunity for our students and our attendees to learn about what that could potentially look like."
"These students are being prepared to go out into the workforce in the environmental sciences sector and this braiding of these two different ways of thinking is only increasing," she adds.
Ultimately, the conference will still focus on the BAS environmental management degree students and their work. Capstone projects have topics ranging from species assessment and protection to soil management and water and vegetation management. 
Nadorozny says one of the reasons she considers the first conference a success was the fact that students were able to secure jobs with their presentations.
"The students get to show their work and get to shine and share. Last year, there were quite a few students, as a result of their presentations, were able to network and were offered positions after they heard by a particular agency."
The conference will be held at the Lakeland Regional Centre in Vermilion on March 19. A pre-conference networking event will be taking place the night before at Copper Cork Distillery.