Lloydminster students expressed that 'Kindness Wins' by surprising community members before Pink Shirt Day. The national event is celebrated on Feburary 26th to denounce bullying and be kind to one another.
Holy Rosary's Red Cross team, consisting of 21 students, travelled around Lloydminster the day before everyone in the city donned a pink shirt. The students looked to radiate kindness through hot chocolate, cookies and other goodies, says school counsellor, Melissa Plamondon.
The students made a variety of stops including the Lloydminster hospital, stopping at nearly every department.
"Kindness isn't complicated. It's about the smallest things you do," says Melissa Plamondon.
"It doesn't have to be something mind-blowing or huge, it could just be simple gestures or smiles. It's about trying to lighten someone's day a bit because you never know what somebody is experiencing or what their struggle is."
Plamondon, who is also a chairperson for Beyond Borders Circle of Change, says the Red Cross team also made a stop to speak to Grade five students at St.Thomas elementary about bullying prevention. She hopes the momentum that has been created through the BBCOC continues.
"There is a lot of challenges, obstacles, hardships in our city, in our community, in our world, but there is also a lot of good and we just want people to have the opportunity to feel that and see that there are good people out there doing good things every day."
Grade 10 student and member of the Red Cross team, Lexi, believes they're impacting younger students who look up to them.
"What you say they really take in, so I think that's important. It's important to know your stuff and what you're saying to them because they understand it and apply that to their life."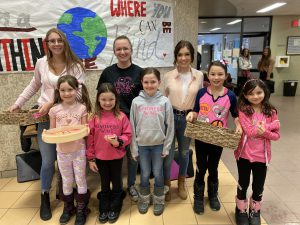 Plamondon hopes that the anti-bullying and kindness initiatives will help shape and mold who students are.
"Who they are, makes a difference. Who they are now, as young people, makes a difference because why wait until you are an adult to change the world. How you act, how you treat people really matters."
BBCOC has given Kindness Wins grants to schools in Lloydminster to promote kindness through a variety of activities during the month of Feburary. The grants are partially funded through the Lloydminster & Region Co-op's Kindness Wins t-shirt and hoodie sales.