Over 100 residents of the Marshall region packed into the Three Links Community Centre to voice their concerns on rural crime.
A crime information meeting held on February 28 was organized by Lloydminster MLA Colleen Young. The meeting brought in members of the Maidstone RCMP Sgt. Jolyne Harrison and Const. Kelly Brennan, retired crown prosecutors Glenn Jacks and Dennis Cann, provincial court judge Kim Young and MP Rosemarie Falk to talk about rural crime at different levels. 
Young says she has heard stories from many constituents about rural crime and wants to open up a dialogue between the government and rural property owners.
"It has escalated significantly especially over the last three years. The Government of Saskatchewan has invested in supporting the local RCMP by retraining and arming wildlife officers and putting a provincial response team in place. But we still have significant challenges and we need to have that open conversation on where we're failing within the system."
One of the biggest issues brought up by residents was the justice system and the legislation surrounding the protection of private property.
"Once we get to the court system we are seeing some challenges and failures within that system. That's what I think is frustrating people more is seeing the same people out and committing crimes over and over again."
MP Falk says she is advocating for a home security tax credit which would cover up to $5,000 a year for the installation of security systems for homes and buildings on the homeowners' property.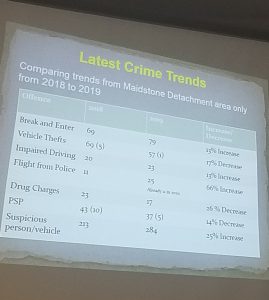 During the meeting, the Maidstone RCMP also gave a presentation on the current crime trends they've noticed in the area. They say break and enters and impaired driving have both increased by 13 per cent from 2018 to 2019. They also showed vehicle thefts, drug charges and possession of stolen property had decreased.
The RCMP says their most alarming statistic is the number of flights from police has gone up by 66 per cent in the past year. Sgt. Harrison says they had 11 cases in 2018 and 25 in 2019 with 11 reports already in 2020.
She noted that criminals are not afraid of the RCMP and they are noticing more criminals, especially drug traders, carrying weapons. 
Another statistic was the number of calls they receive for suspicious people or vehicles. The number of calls went up to 284 from 213. Const. Brennan says this is a good thing.
"We want those calls. You may think it's inconsequential what you just saw but it could be a part of a bigger picture."
Brennan says communication is the best tool when dealing with rural crime and pointed at several different resources. He mentioned the Saskatchewan Crime Watch Advisory Network as a tool to help residents be aware of possible criminals in the area. He also says small communities should set up a messaging group on WhatsApp to relay information on suspicious characters.
"It's a fantastic tool for people in the rural area to help them feel better and less isolated because now they have outside eyes that are helping watch over their property as well as their watching over the others."
Young also says the government is developing an app named Sasklander which will help manage access to landowners properties. She says they are expecting to test it this summer in Shellbrook before releasing it to the public.