The location for the new Fire Hall #1 building has been chosen.
Fire Hall #1 will be built on the city-owned property at 3752-47 Street. In a report presented to city council, the location was chosen as it provided better access to major roads, allowed for expansion and would cause less noise complaints.
Mayor Gerald Aalbers says the new location will sit on seven acres of land which gives some room for a training facility and other future expansions.
"Should something change in our city or if the fire service comes forward with an idea on possible training aids or whatever else that might come towards the city on that side it would be beneficial to have that space and not be confined."
The other recommended choice was on 4419-52 Avenue where the current Community Services building sits. The building is expected to be torn down later this year. 
The site has better response times for all areas of the city but could cause challenges because of traffic congestion and constant travel through residential areas. The land cost is also more expensive and the space adds more restrictions for building design and future expansions.
"In 20 years, if the fire services needed to double for our city, as an example, and we put them on [the second] space they wouldn't have the ability to add two or three more bays."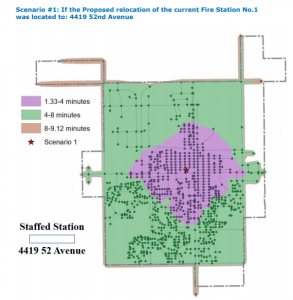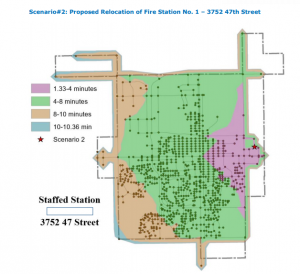 City council was provided with two maps showing response times for both locations. The one on the East side of the city showed slower times to respond to calls on the West end. However, Fire Hall #2, located on 2706-59 Avenue near the Lakeland College campus, will compensate for these times. 
"Firehall #2's map did not lay over the city and that might be the best way to approach that so people on the west side don't feel slighted by the location of the firehall. That's why Firehall #2 is equipped and has response from there."
Firehall #1 was deemed near its end of life in a buildings report last year. An estimated cost to replace it was priced at over $10 million and the city has budgeted $8.3 million for the project in the 2020 budget. No date or timeline was given on when construction would start.