As the COVID-19 situation eases at the Lloydminster Hospital, so too will some business restrictions.
As of May 19th, Lloydminster will be able to open select retailers, personal care services and shopping malls. This means clothing stores, boats, ATV and snowmobile dealers and other non-essential retail stores can re-open. On the same day, hairdressers, barbers and massage therapists can re-open as well.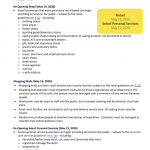 There will be rules in place, however. All locations will still have a ten-person limit, must have extra cleaning procedures in place and stagger customers to make sure physical distancing guidelines are followed. Visitors must also maintain proper hygiene tips such as handwashing, and not visiting somewhere if they are sick.
These tips can be found on the Government's website.
The next steps, including the phased re-opening of gyms, food services, licensed and remaining personal services, as well as expanding the public health order from groups of ten to fifteen, will depend on how COVID-19 numbers fluctuate and medical health advice over during this period.