Construction season is about to begin in the City of Lloydminster.
City council has awarded the contracts for several roads, sidewalk and trail projects. ASL Paving Ltd was awarded the contract for street improvements at a cost of just over $1,590,000.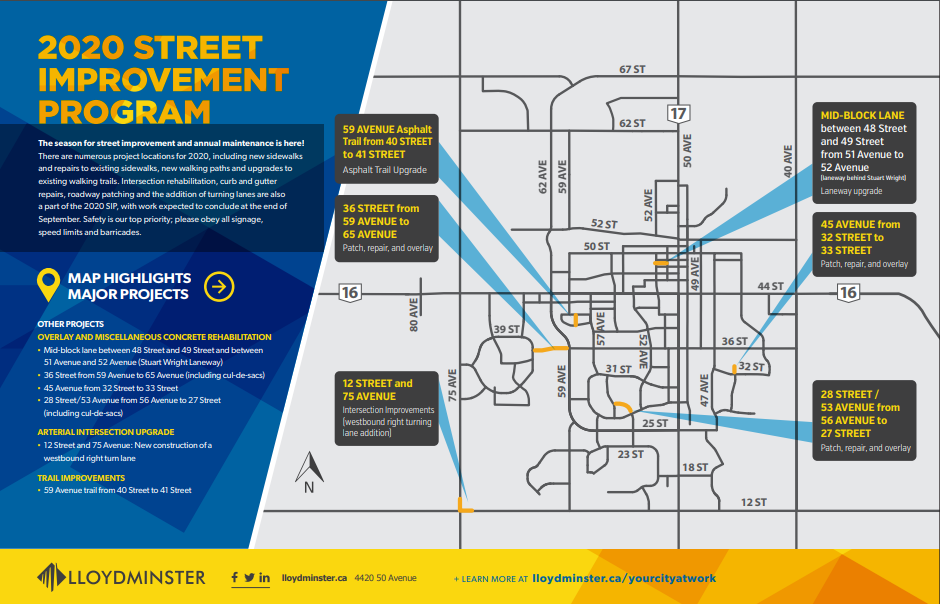 Projects include street improvements on:
12 Street (Township Road 494) and 75 Avenue intersection right turn bay improvements

45 Avenue from 32 Street to 33 Street

45 Street from 53 Avenue to 54 Avenue

36 Street from 59 Avenue to 65 Avenue

28 Street (53 Avenue) from 56 Avenue to 27 Street

Mid-block lane between 48 Street and 49 Street and between 51 Avenue and 52 Avenue laneway  
Asphalt trail improvements:
59 Avenue from 40 Street to 41 Street

22 Street Trail to Lakeland College

Bud Miller entrance walking trail
Airport taxiway improvements:
Walking trail 

Secondary taxiway
Construction is anticipated to start in June and completed by September 15. Councillor Jonathan Torresan excused himself for the decision on this award due to a conflict of interest.
The Water and sewer main replacement on 50 Street between 51 Avenue and 52 Avenue was awarded to Rusway Construction Ltd for $870,000. The project will upgrade and replace mains installed in the 1950's and will also improve the roadway and sidewalks on the street.
Construction is expected to start by the end of May and completed by August 31.
Rusway will also upgrade the sanitary trunk main on 47 Avenue between 41 Street and 40 Street and on 40 Street between 47 Avenue and 48 Avenue. The contract was awarded for $1,400,000 to replace the cast iron water main with a PVC water main as well as replace the storm main with a concrete version.
Construction for this project is anticipated to start by the end of May and completed by September 30.
Both companies awarded are contractors based in Lloydminster. Mayor Gerald Aalbers says there are added costs for other companies which aren't there for local businesses.
"I'm excited to see us able to support local community businesses. In this case it came down to price which is appreciated and we'll get some great work done by local contractors. There are some local contractors that didn't get this award but hopefully there will be other work for them as well." 
Aalbers says the city has taken precautions at every step to ensure construction projects can continue uninterrupted by COVID-19 and everyone involved is safe.
"It's been addressed in the bidding process. It will be addressed in the contract that's awarded. It will be addressed on a day-to-day basis by the safety team and engineering team at the city as well as working with the contractor directly."
All road construction is weather dependent and schedules are subject to change. Signs will be placed to notify drivers of detours and closures as they occur.