A local artist and Lloyd Mall are honouring the essential workers through a new artwork piece.
Lloyd Mall visitors may notice a splash of colour near the southern entrance beside Pearle Vision. It is a mural currently being painted by Brandi Leah Hofer and will pay tribute to the front-line workers in the community.
"The world was rocking from under their feet but they still showed up everyday. It's amazing and I remember I was frightened. You don't know what's to come, what they future holds and what it meant to your family, the world, our economy and everything. It was overwhelming so imagine getting up and going to work with the uncertainty of all of that weighing on your shoulders," Hofer says.
"We're trying to show how we're all together as a community and how we're all in this together," General Manager Kim Richer says. "It's going to be something that's on our wall for a while because it's definitely something that affected everyone and our community as a whole."
Hofer says she and mall administration have been planning the mural for close to a month and will be incorporating several different elements into the mural. An Indigenous medicine wheel is taking near centre stage of the mural and Hofer is collaborating with photographer Jason Whiting for parts of the piece.
The artwork will also include some community input. Hofer took to social media asking for residents to share words that gave them hope during the pandemic. In less than 24-hours she received over 100 comments from people sharing their thoughts.
"I knew some people would respond but wow. It's blown me away. I'm so excited and that was my part. I called Kim [Richer] from the mall and I said I had a great concept for the mural. Let's make it about hope and what's brought people hope during this time."
She says she wants to integrate the responses as a text element into the work.
This isn't the first large mural Hofer has done. She's also painted the mural on the side of the Assure Occupational Testing building on 4816 49 Avenue. She also has more projects in the works including one planned to raise awareness of the need for the Lloydminster Cultural and Science Centre.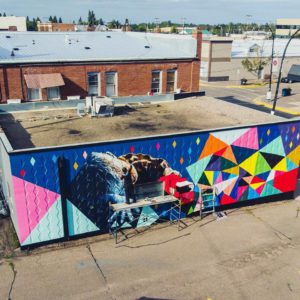 "Through these times, people have leaned on the creative community to support them. I don't think we could get through something like this without the arts around."
Lloyd Mall is also commissioning another mural piece by a different local artist, Michelle Lake. It will be located by the Paris Jewellers and will also honour essential workers.