Property crime continues to be a focus for the Lloydminster RCMP as they saw an increase in offences this year.
Inspector Lee Brachmann provided a quarterly update which showed some of the statistics and goals for the department this year. The update took into account offences recorded from January 1 to April 30, 2020. It showed increases in property crime, criminal code traffic offences and other offences.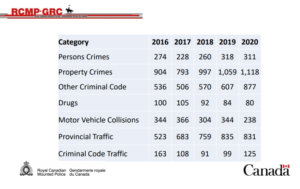 Weapons charges, failure to comply and disturbing the peace are categorized under other offences. There was 877 of them which increased from last year's 607. Brachmann attributes their program targeting chronic offenders in the community as a reason for the rise. Mayor Gerald Aalbers says it's been a focus for the detachment for a number of years.
"It continues to resurface as an important step. If they can help that individual either with a change from the lifestyle they have or dealing with the consequences of their actions. I think that leads to an improvement in our community and it's good to see that it is working."
The number of vehicle collisions was significantly down when compared to the same time last year. In 2020, the RCMP recorded 238 collision while in 2019 there was 344. When asked about if COVID-19 had an effect on the numbers, Brachmann says he does recognize an impact in the reduction of collisions and expects the trend to continue.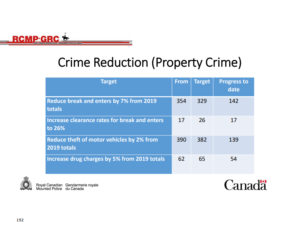 The detachment has also set some yearly goals to help reduce offences in certain areas. Distracted driving, break and enters, motor vehicle theft and drug possession are some of the main offences they are looking to reduce in the city.
Aalbers says it's important that the RCMP set obtainable goals and is happy to see the detachment making progress on them.
"They're challenged continuously and they've also taken on projects that try to deal with prolific offenders and ensure they make a dent in crime. That's what we like to see from our perspective and I think that's what the community would like to see as well."
Brachmann says a long-term goal for the detachment is to develop and enhance their partnerships with organizations to address underlying issues in the crimes. He adds that engagement and communication with the community are still a priority for the RCMP.
Inspector Brachmann says the detachment will be looking into hosting a virtual town hall sometime in September.