Both Lloydminster high schools and the high school in Onion Lake Cree Nation found a way to honour their students reaching a significant milestone.
Due to the large number of graduates, the school had to find a way to celebrate while also following provincial health guidelines. So, the drive-through graduation was chosen as the best way to do the event which took place on June 24. There were 292 students graduating from Lloydminster Comprehensive High School this year.
Students and their families were split into groups of 20 and given an arrival time for the ceremony to ensure they were following provincial health guidelines. Students would leave their vehicles to pick up their diplomas while keeping a good distance from each other.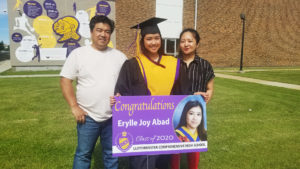 Joy Abad says while it wasn't ideal, she's happy to have some sort of graduation and is excited to move forward in life.
"I'm going into a Bachelor of Commerce [program] so I will be going to college and after that, wherever life takes me."
Each student was given a diploma on stage and a personal lawn sign commemorating the event. Family members were able to leave their vehicles for a short time to get photos before leaving the ceremony.
Principal Dwayne Marciniw says the staff are glad to be able to do something honouring this year's graduating class.
"It's fantastic. We were delighted to hear that some parameters opened up so we could offer our graduates an opportunity to come across the stage. [It's] one of those important milestones capping off their public education careers."
Holy Rosary High School had 155 students pick up their diplomas this year and also celebrated with a drive-through graduation. Graduates picked up a gift bag, walked the red carpet and were given their diplomas.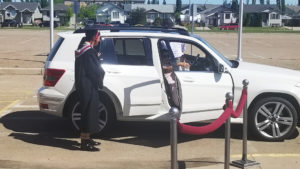 Graduating student Rufy Jag Guron says it's been a day he's been looking forward to and he feels ecstatic.
"I think we would all like a normal graduation but, with everything that's going on, I think the school has done their best to give us that same feeling and will definitely go down in the history books."
Guron is set on a career path in the music industry. He says he's signed a record deal in a Hollywood company and plans to move to Vancouver for now as the borders between the two countries remain closed.
Eagleview Comprehensive High School held their ceremony the same day. Instead of a drive-through graduation, 57 students were congratulated on an outdoor stage. The full ceremony is available on the school's social media page.